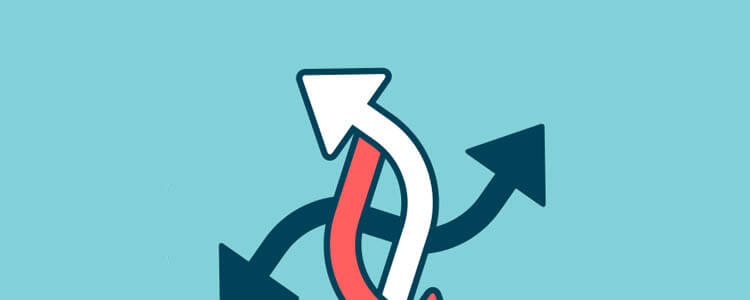 Beginner's Guide: How to Install a WordPress plugin
The beautiful plugin is one of the huge reasons people like to use WordPress as a content management system, and it's also one of the main reasons people get in trouble in terms of security and slow page loads on their sites.
One of the first tasks you'll want to perform is to make a list of all the plugins that you think you'll need to make your website work properly. Technically, all websites work fine with just a theme, but sometimes you want a nicer contact form or a killer caching plugin to speed up your site.
It doesn't matter if your company needs a landing page plugin or a list building plugin; the process for installation is rather simple. We have three methods to install a WordPress plugin, ranging from easiest to hardest. I would encourage you to learn all of these methods because they can serve you well in the future for knowing the way your website works and for transferring files properly.
That said, let's take a look at how to install a WordPress plugin within just a few minutes.
Things to Consider Before Installing a WordPress Plugin
Similar to installing a theme on your WordPress site, implementing plugins requires a little bit of thought. Yes, plugins are extremely powerful, and they can often turn your site from something bland into a beautiful piece of functional art.
That said, do you have any idea on how to properly choose and use plugins? Here are some tips and things to think about before you upload and install any WordPress plugins to your website.
Check how many downloads each plugin has, because there is often a reason why a plugin is or isn't that popular.
Check to see the ratings for each plugin. This can help you locate newer plugins with not many downloads but solid reviews.
Actually read the reviews. Although most plugins are legitimate, you may run into some intentionally malicious programs.
Do you have a self-hosted WordPress.org site? If you only have a WordPress.com site you won't have access to plugins.
Don't go too crazy with your plugins. A lesser amount of plugins on your site decreases the chances of slowing down your site and opening up security holes. Do yourself a favor and keep the plugins to a minimum.
Always update your plugins on a consistent basis to close any security holes that open up from outdated plugins. However, don't just blame your security problems on plugins.
Method 1: Install WordPress Plugins Through the Admin Dashboard
Installing your WordPress plugins directly through the WordPress admin dashboard is generally the most common and easiest way to install plugins onto your site. Why is it more common than the other methods? WordPress provides a database of all free plugins so you don't have to leave the dashboard at all.
It offers a nifty search and filter functionality, and you don't have to worry about messing with any files or uploads.
To start, open up your WordPress dashboard and go to Plugins > Add New on the left hand side of the dashboard.

The WordPress plugin repository was never like this before, but nowadays it's so nicely organized. You can choose between Featured, Popular, Recommended, and Favorite plugins. When you select one of these categories it brings up huge thumbnails with information like ratings, descriptions and downloads.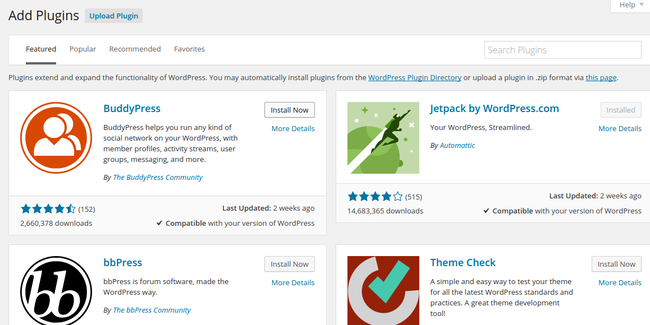 You can also use the Search Plugins field at the upper right hand corner if you know the name of the plugin you want to install on your website.
Let's say I finally stumble upon the plugin I want to install on the site. In this case I'm in need of a list building plugin, so I find the MailChimp option. Click the Install Now button and confirm on the popup page that you are OK with going through with the installation.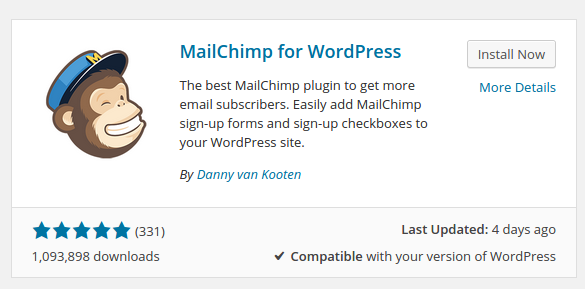 Select the Activate Plugin link to finish the process.

If you don't activate the plugin it still remains in your Plugins list, but none of its files or functions are used on your website. You can activate it later if needed. The final step is to configure the settings for your plugin. Every plugin has a different settings page, but you can usually find the right one by searching around in the toolbar on the left hand side of the dashboard.
A solid place to start is the primary Settings tab in the dashboard.
Method 2: Install Your Plugins by Manually Uploading the File
Some people would rather walk through the WordPress Plugin directory, and this can actually be helpful if you are browsing lists for the best plugins to use, since when sites link to plugins, it's usually to the WordPress Plugin Directory.
The other instance you may need to manually upload the plugin file to your WordPress site is if you buy a premium plugin. In this case you will end up having to pay the company who made the plugin and download it from their website.
Keep in mind that not all plugin files are the same. You will always have to upload a zip file to your dashboard, but sometimes the plugin authors place a zip file inside a zip file, meaning that you have to unzip the plugin once and then upload a zip file inside the original file. I usually just try to upload the first downloaded file and then WordPress will tell me if there is a problem.
To start this method, I'm going to assume that you already have a WordPress plugin zip file downloaded onto your computer. Log in to your WordPress dashboard and go to Plugins > Add New, similar to the first method.
Select the Upload Plugin button at the top of your page.

Click on the Choose File option which will open up a window for you to search for the plugin file that you previously saved to your computer. Once you locate and select the plugin zip file it will be sitting on your dashboard. Click on the Install Now button and wait for a second.

The final step is to click on the Activate Plugin link to ensure that the plugin is actually running on the site.
Method 3: Install a WordPress Plugin via FTP
If you have never heard of an FTP (file transfer protocol) manager, I would stray away from this method for now. However, I do think if you have some time you should play around with an FTP manager because it can prove useful in the future, particularly if you plan on improving your skills as a web developer.
Anyways, the idea with an FTP manager is that you are taking a local file and placing it in this FTP system, which then transfers the plugin file into your host files. It used to be a more common way to transfer and upload files before some of the methods above came along, but there are still plenty of people who would rather work with FTP because of the security and upload power.
Let's start by saying you have a plugin zip file sitting on your computer. The first thing you need is an FTP manager. I like to use FileZilla, but there are plenty of other options to choose from online. Once downloaded, open the FTP program and connect with your host using the credentials you can find from the host itself.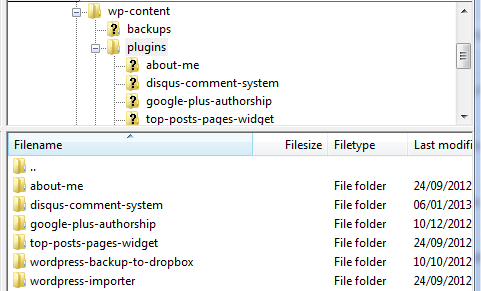 Once connected, locate the /wp-content/plugins/ file and transfer your plugin zip into this file. You generally have to unzip the file before transferring the files through an FTP client. Once the transfer is complete you can move to your WordPress dashboard. Go to the Plugins tab on the left hand side and you should be able to locate the plugin you just uploaded. Simply click on the Activate link underneath the plugin to complete the entire FTP upload process.
Plugins make WordPress similar to a smartphone. On its surface a phone is really just a base system, but once you start adding apps to a smartphone it becomes something completely different. The same goes for installing plugins on your WordPress website. WordPress just works as a framework for you to build cool new things with plugins and themes. It isn't until you add these extra components when you start seeing your site come to life.
From contact forms to SEO plugins, you can find just about anything to make your website a little cooler and more functional. Just remember to not go overboard to prevent the problems we talked about above. Let us know in the comments section below if you have any general questions about how to install WordPress plugins. The process is rather simple, but I know the first few times can prove to come off a little difficult.
I hope my article helped you learn how to install a WordPress plugin on your site. You may also want to see our guide on 13 Common WordPress Beginner Mistakes to Avoid.
Also, share any other tips you may have for other people who are just getting started with the plugin installation process.