Solopreneur integrates with Optin Forms to allow you to add all kinds of forms to your WordPress website. The plugin ships with five different form styles right out of the box. If you're running the Solopreneur theme, you get access to an additional three forms, too.The plugin allows you fully customize them through the configuration options.
In this post, we'll explore how you can add Optin Forms in Solopreneur theme.
Installation
Assuming you already have Solopreneur installed, login to your site's admin panel.
Navigate to Plugins> Add New.
Search for Optin Forms.
Click Install.
Once the plugin is done installing, click the Activate link at the bottom to get started.
Note: You will be prompted to install the plugin when you activate Solopreneur.
Getting Started With Optin Forms
In this section, we'll walk you through a quick tutorial on how to set up your own Optin Forms in the Solopreneur theme. We'll show you how to add forms to your site's sidebar, posts, and pages.
Configuring the Optin Forms
Navigate to Optin Forms from your WordPress site's dashboard.
Click on the Forms tab at the top of the screen.
You'll be presented with several different configuration options.
Select from one of the eight forms designs to get started.
Style your form.
Configure the form options.
Add form functionality.
Set form placement.
Click the Save Changes button to continue.
The final form should look something like this depending upon your custom configuration.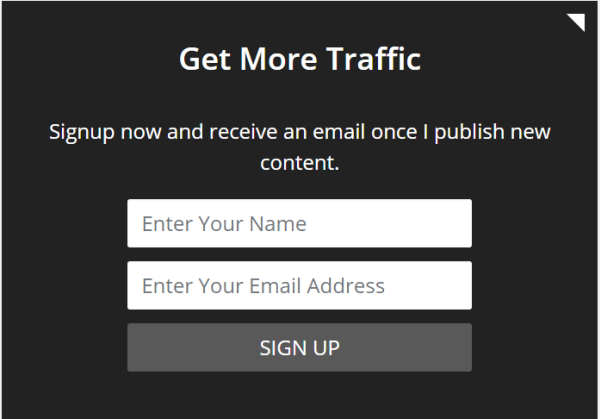 Adding Optin Forms to the Sidebar
Once you have your form created, you can add it to your WordPress site's sidebar by following these steps:
Navigate to Appearance>Widgets from your WordPress site's dashboard.
Add a Text widget to the Sidebar.
In the Content section of the Text widget, add the following shortcode: [optinform].
Click the Save button.
Navigate to your website's front-end and you'll notice that the Optin Form you created has been added to the sidebar.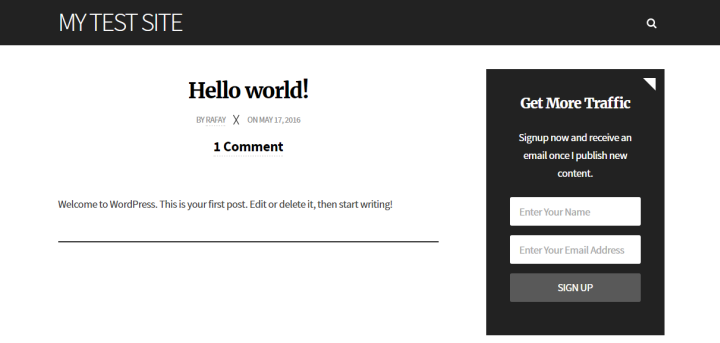 Adding Optin Forms to Posts & Pages
Adding Optin Forms to your WordPress website's posts & pages is easy. Follow the steps outlined below to get started:
Navigate to Pages or Posts  from your WordPress site's dashboard.
Select the page / post you'd like to add the Optin Form to.
In the post text editor, add the shortcode [optinform] where you'd like to add the Optin Form.
Click Publish to continue.
Click the Preview button to view your web page. You'll notice that the form has been added to the page or post.