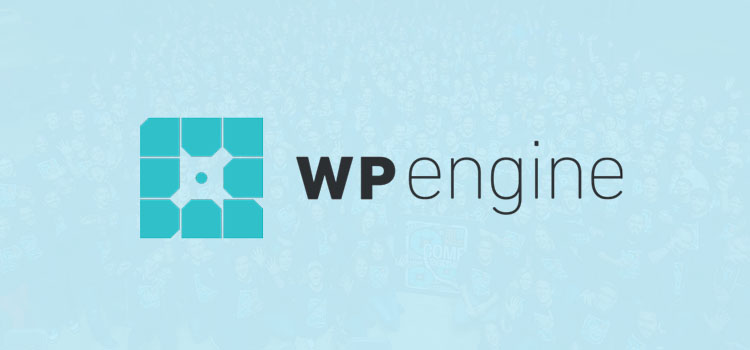 WPEngine Review & Coupon – 50% OFF Discount – 2016
Discount:
Use coupon code "wpkube50" at the time of checkout to get 50% off on your entire purchase.
Click here
to use the coupon.
WordPress is one of the most powerful website content management systems (CMS) that supports millions of websites in existence. It's no surprise that many hosting service providers exist to host this particular CMS. WP Engine is just one of them – one of the best, I must add.
Finding a secure web host for WordPress is quite an important step during the journey of building a beautiful and secured website especially if you're a professional webmaster. Because  there is no surprise in the fact that your website might face being hacked more than once or twice and you need managed hosting service providers to not let that happen or to take care of the after-mess at the very least. WP Engine actually gives you the guarantee of premium quality WordPress website upkeep and maintenance.
In this article, we'll review the famed hosting service, discuss the features it has to offer and wrap up with a section on their service's speed, usability, customer service, and pricing.
Let's get started!
A Brief Overview

WP Engine has been growing at a rather fast pace and with the services it provides, why wouldn't it? This web hosting provider might not be the cheapest player in the market but it's certainly got an impressive list of features to boast.
WP Engine was founded in 2010 for WordPress, and ever since then, it has grown to over 300 employees, and had begun to open different branches globally only two years after its start. The company opened an office in San Francisco in the year 2012, San Antonio in the year 2014, and finally London last year.
WP Engine was founded by Jason Cohen and Heather Brunner (former CEO) and has attracted many investors in the business e.g. Silverton Partners, NorthBridge Partners, and more.
And due to its incredible performance and the premium services it provides to millions of webmasters globally, WP Engine has surely been taken into notice and has received multiple awards for its managed hosting services.
Features
WP Engine provides you with the basic managed hosting service features. You have unlimited data transfers each month which make the entire WordPress experience much more relaxed and painless.
With their daily backups service, you can rest assured that all of your data is safe and stop worrying about it being lost which lets you focus on more pressing matters such as business growth. Its one-click backup and restore can relieve you of ongoing headaches so that instead of going into tiny details and still worrying if you might have left something out or about your hard work being lost, you can let WP Engine take care of it all.
Furthermore, staging area is also not a concern in WP Engine. Staging areas in web development are quite like the ones in real life where you can test out the changes before actually exposing them live to your audience. So if you need to change any sort of themes or plugins, you can easily test them out in the staging area and if everything looks good, let them on your website.
One more thing that this hosting company take seriously is your site's security. WP Engine gives you the guarantee of helping you get your site back if it is ever hacked for free! No hosting service can promise that a site will forever be safe from hackers and malware so helping to get it back is the real deal – and with no additional charges it just makes it all the more convenient and desirable.
WP Engine is also known for its excellent customer service and offers technical support around the clock. Add onto that with the fact that site location is absolutely free and you've got yourself the perfect, managed web hosting service money can buy.
Let's sum up the features quickly before we move on:
WordPress-specific support
One-click backup and restore
Hacks fixed free of charge
Site migration service
Staging area
WordPress deployment through GIT
Bundled CDN
Curated plugins and themes
Plans that are risk-free for 60 days
The features of WP Engine are quite eye-catching and mouth-watering but like most great things in life, it comes at a hefty price. At this point, I'd like to say that the service offered by WP Engine is definitely great value for money – especially if you're a new webmaster or aren't as technically minded.
In the next section, I'll cover some of the most important factors webmasters take into account while evaluating a web hosting service.
An Evaluation of WP Engine
WP Engine ranks well in terms of the extensive list of features it has on offer and the top-notch service it provides to all WordPress webmasters. Let's delve into the factors that will affect both you and your website in this section and evaluate the popular web hosting service according to our criteria based on:
Speed
Usability
Customer Service
Plans and Pricing
1. Speed
A fast and reliable web experience for all of the users is not a compromise when it comes to WP Engine. Two things that are just down-right irritating: flies on your food and a slow site. Websites built with the WordPress CMS need a blazing fast web host that puts speed into mind and WP Engine does just that!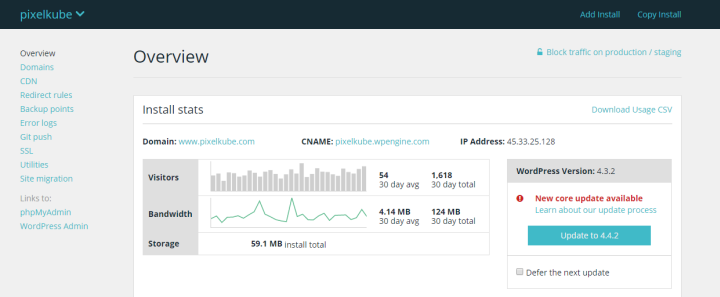 For the purpose of this review, I monitored the test site, PixelKube, using Pingdom and GT Metrix and WP Engine's uptime and page load times were almost faultless. Check out the results!
Pingdom Test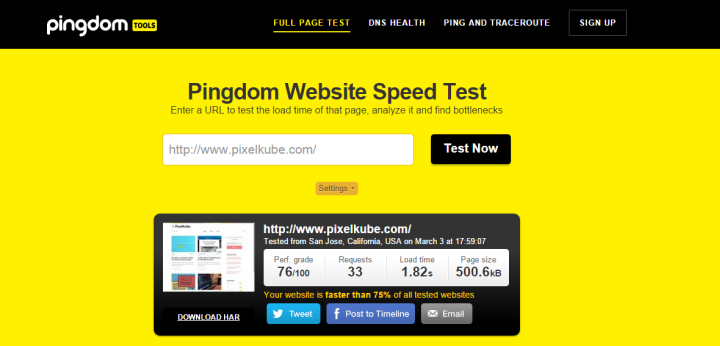 Our test site – hosted on WP Engine – had a total page size of 500.6 KB and received 33 requests. The Pingdom website speed test reported that the webpage loaded in 1.82 seconds which is really good based on industry standards.
GT Metrix Test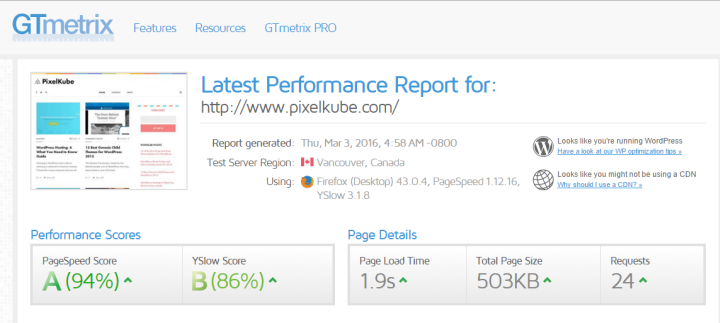 Just to be sure, we tested PixelKube out on GTMetrix too for page load times and found that the 503 KB page receiving 24 requests loaded in 1.9 seconds. That said, the WP Engine hosted website performed exceptionally well on the PageSpeed Score coming in at 94%!
WP Engine guarantees super fast speeds and 90% uptime to all of their customers.Also, there are developers sitting 24/7 updating your website and providing full support to any problems you may run into.
2. Usability
Since WP Engine is a managed hosting service provider, you are in control of some of the basic settings like your site's domain and CDN. WP Engine manages most of the settings, so basically you do not have to monitor your website around the clock or worry about its maintenance. After all, that is the whole point of signing up for a managed web hosting experience – and WP Engine delivers!
3. Customer Service and Reviews
Like everything else, their customer service also has its pros and cons.
Pros include you having a response incredibly fast once you have a problem. All you have to do is login to your WP Engine account and send in a ticket with your query. Someone will get back to you pronto.
Cons include them closing their ticket way too soon. Your response has to come quite early because the tickets are closed automatically and then you would have to go through the process all over again and submit another one. So, you might want to clear up your schedule a bit if you ever feel the need to reach out to their customer service staff.
4. Plans and Pricing
Once again, since WP engine is a managed hosting provider, it not only manages every technical aspect related to your WordPress site but it also makes it easier for you to manage what you have control over. WP Engine has four managed hosting plans: personal, professional, business and premium.
The Personal plan will set you back $29 per month. This plan includes 1 WordPress install, 25k visits per month, unlimited data transfer, and 10 GB local storage.
The Professional plan costs $99 per month and allows 10 WordPress installs, 100k visits per month, unlimited data transfer, and 20 GB local storage.
The Business plan will cost you $249 a month with 25 WordPress Installs, 400k visits a month, unlimited data transfer, and over 30 GB local storage.
WP Engine's Premium plan and Enterprise plan are designed keeping the needs of large-scale companies in mind. Customers interested in this plan must call in for a quote.
All of these plans come with the basic features WP Engine has on offer like automatic backups and restoration of your data, firewall, malware scanning, and incredible support making your work easier and more comfortable.
Be sure to check out our WP Engine coupon for a special discount!
WP Engine is quite pricey as compared to other web hosts and for good reason! You won't find a list of features as extensive as theirs elsewhere. That said, WP Engine has a 60-day return policy where your money will be returned if you are dissatisfied with their services within the first 60 days of use. There's no harm in trying out the service and if you don't like it then you can take them up on their money back policy.
Wrapping It Up
WP Engine is by far one of the best managed web hosting services around. They offer an extensive list of features and have several different plans on offer for all kinds of users. If you're new to WordPress or simply don't have enough time to take care of your site's maintenance, security, and upkeep, WP Engine is perfect for you – provided you don't mind spending some money.
Don't forget to use our WPEngine coupon coupon code "wpkube33" to get 33% off discount!
Have you ever used WP Engine? How was your experience with their service? We'd love to hear from you so let us know in the comments section below!