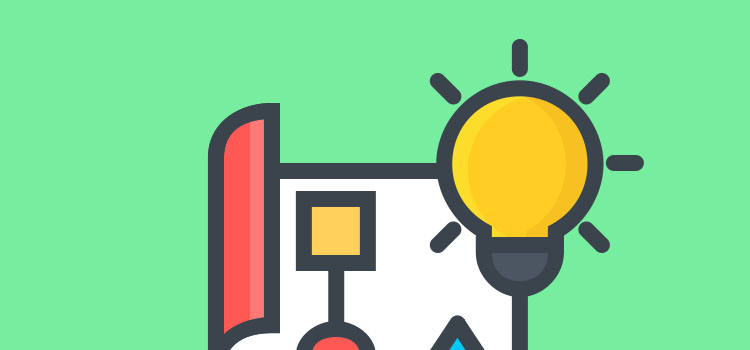 15+ Best Genesis Child Themes for WordPress
The Genesis Framework, brought to you by the talented team over at StudioPress, is one of the most popular and powerful theme frameworks available on the market today. Providing security, functionality, and superior theme features, Genesis will make your website run smooth and look great.
Not only does Genesis have features such as custom built in widgets, clean and lightweight code, and multiple layouts to make your website unique, there are some excellent child themes meant to work specifically with your Genesis Framework.
If you are looking for a multipurpose platform with plenty of easy to handle customization options, consider using a Genesis child theme to really create a standout website that sets itself apart from even your toughest competition.
Let's take a look at 20 of the best Genesis child themes for WordPress.
1. Parallax Pro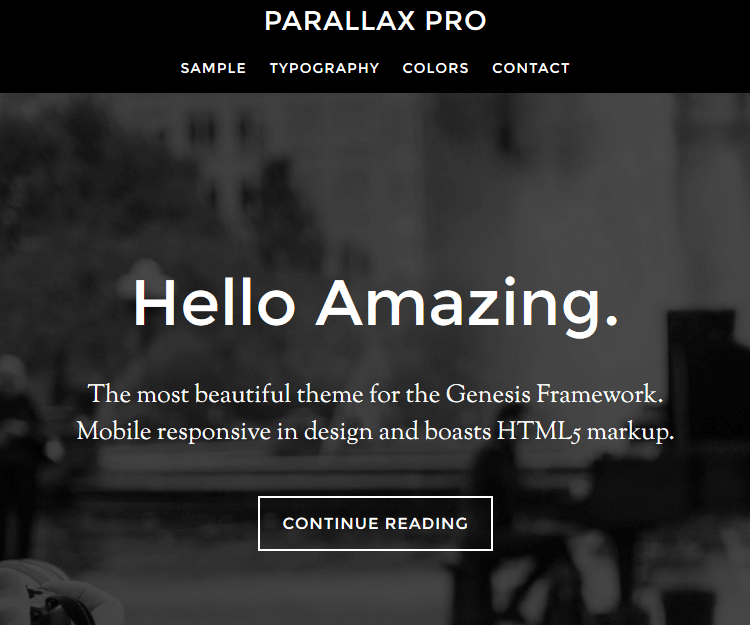 Parallax Pro is the perfect theme for those running a business or portfolio website. With its organized layout and minimal feel, this Genesis child theme gives readers a simple vertical design to follow. Dividing content into sections so that it is read as though a story that is interconnected, this theme ultimately leads your readers to your call to action button.
It comes 100% responsive and with a smooth parallax scrolling effect making your website different than many other websites. Enjoy the lack of distractions, the large header image to draw visitors in, and the conversions your call to action will produce.
2. Lifestyle Pro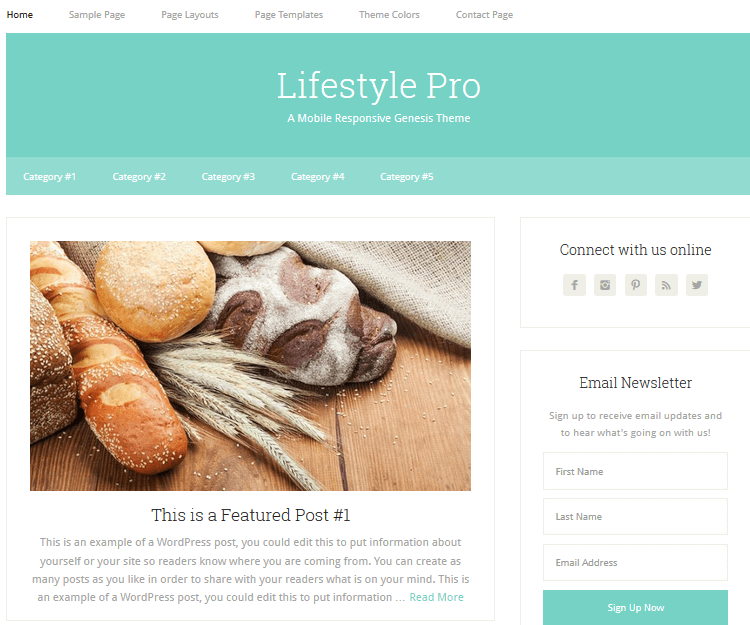 Lifestyle Pro is a brightly colored and stylish magazine-style child theme built for Genesis. Smart layouts and flexible customization options let you express yourself in a creative way. Include blog posts and video, a featured slider, and six color schemes to get your point across. Better yet, make a great first impression with Lifestyle Pro's large featured images.
With a built-in landing page for higher conversions, a widgetized sidebar, and a clean, modern design, this child theme is sure to wow your site visitors. Lifestyle Pro gives off a fresh vibe and makes for a great overall user experience perfect for those wanting to share fashion tips, lifestyle hacks, or even health advice.
3. Bradley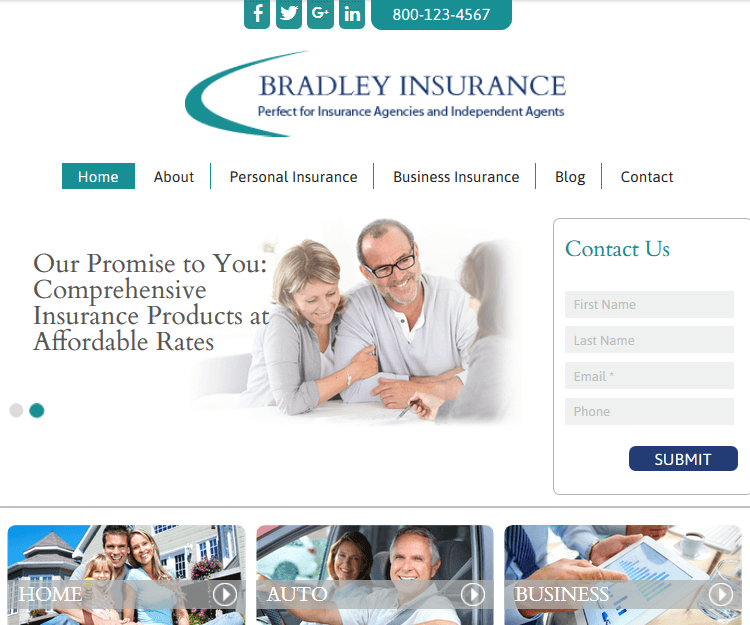 Bradley is designed for those who run an agency or business WordPress website and want to take advantage of the Genesis Framework. You get a clean and professional look with Bradley, as well as various color options to match your company's brand image. Mobile-friendly and SEO optimized, this child theme is great for scaling businesses.
Though the homepage is widgetized, you can deactivate the widgets and turn it into a blogging theme instantly. It supports featured posts and pages, is ad ready, and even has advanced commenting functionality for getting your site visitors involved. Lastly, Bradley includes multiple sidebars, call to action boxes, and author boxes for those contributing to your website.
4. Minimum Pro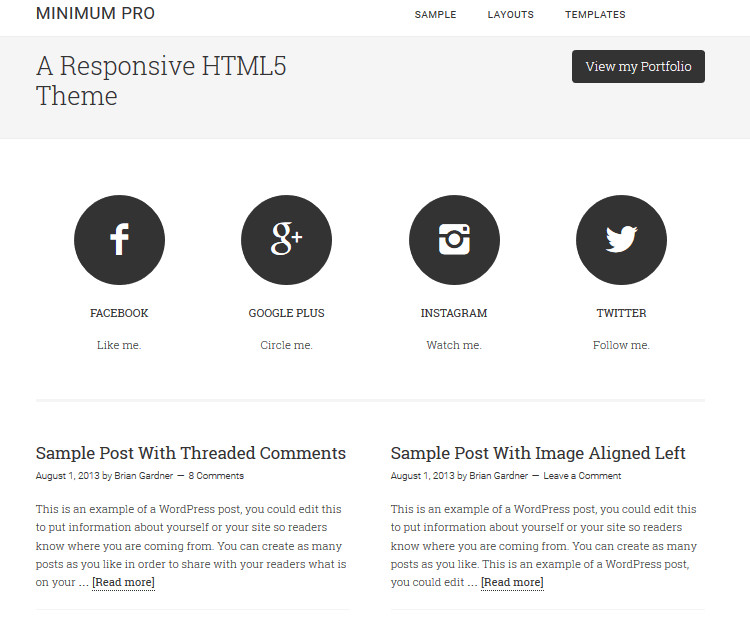 Minimum Pro stands by the statement that 'less is more'. Clean, elegant, and powerful, this premium Genesis child theme is ready to showcase your writing in a whitespace filled way. Built lightweight for optimal site performance, you website will impress visitors in both speed and visual appeal. Include a landing page, blog posts, or even a portfolio on your website to share your thoughts and your best work.
This theme comes with custom footer widgets and large featured images for your content. Threaded comments let your readers interact with your content without all the clutter that can take up too much space on some websites. The end result is nothing short of minimum.
5. Innovative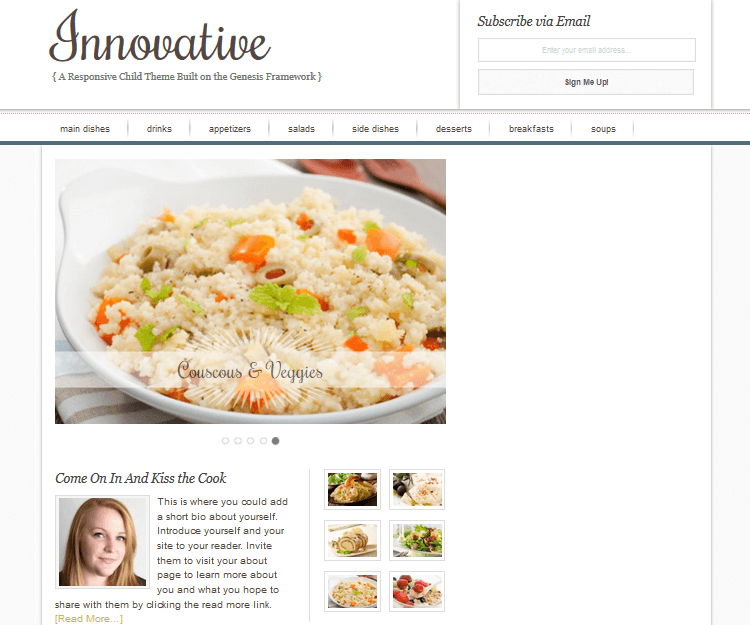 Innovative, created by the Pixelista, requires you already have the Genesis Framework. It includes three color combinations for highlighting your content, especially if you are sharing a foodie blog with your followers. Coming with two food blog specific plugins, ReciPress and Easy Recipe, you will be well on your way to becoming a well-known foodie in no time.
The narrow homepage lends itself to beautiful post images in a variety of sizes adding to the visual appeal. Convert more subscribers with the bold opt-in box above the main menu tabs. Brand yourself with a large site title and tagline in elegant script. And lastly, enable the category layout so that readers can easily access your best recipes from breakfast all the way to dinner and dessert.
6. Patron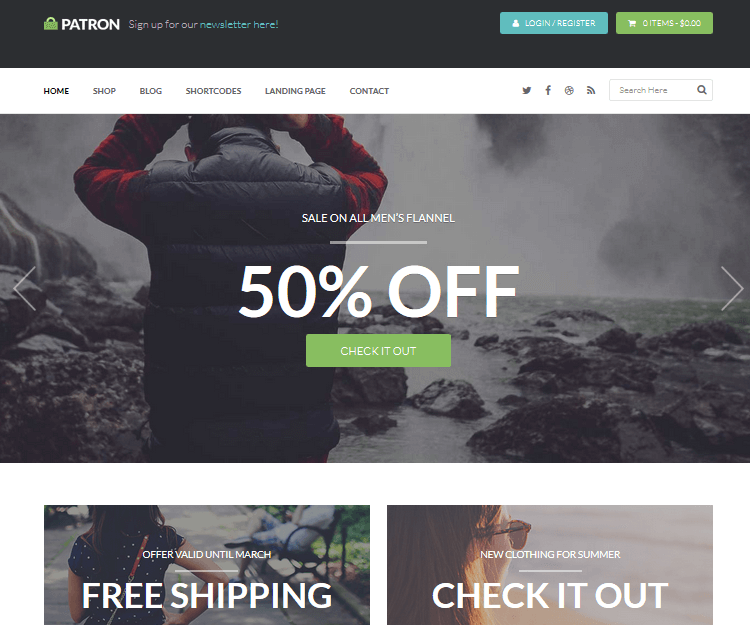 Patron is a fully-featured Genesis child theme built on the powerful and free WooCommerce plugin. Great for those looking to sell products of all kinds, Patron has many unique features. For example, it is HTML5 and retina ready so your customers can get the best view of your products. It also has unlimited color and font possibilities and a content slider for highlighting your best deals. Plus, it is fully responsive for those making purchases on small devices.
With a landing page template for gathering more subscribers, and cross browser compatibility, Patron is sure to capture the likes of everyone that enters your eCommerce shop. And what's great is the purchase price includes additional Genesis child themes for you to check out as part of their bundle pricing plan.
7. Andrea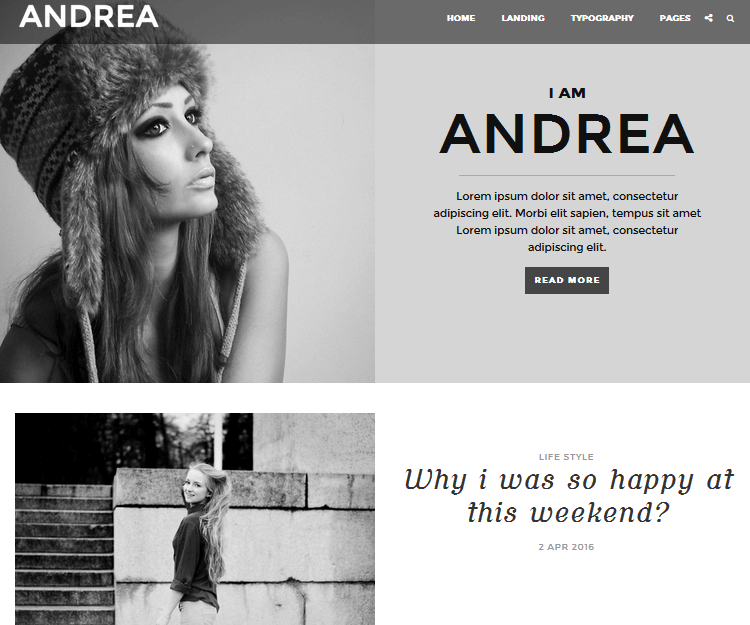 Andrea is a beautiful grid-like Genesis child theme requiring the separate purchase of the Genesis Framework. Header logos for branding, social icons for connecting, and 5 different About Us types give you ultimate control over how you present yourself to your intended audience.  Plus, Andrea boasts optimal performance and speed having passed several page load speed and coding tests with flying colors. This way your visitors never have the urge to bounce.
The Optin Boxes plugin comes packaged with the theme for building your email list and works well with major email service providers. Plus you have the option to display your website with or without a header, include footer text for extra contact information, and even present related posts to your readers for further site engagement.
8. Journey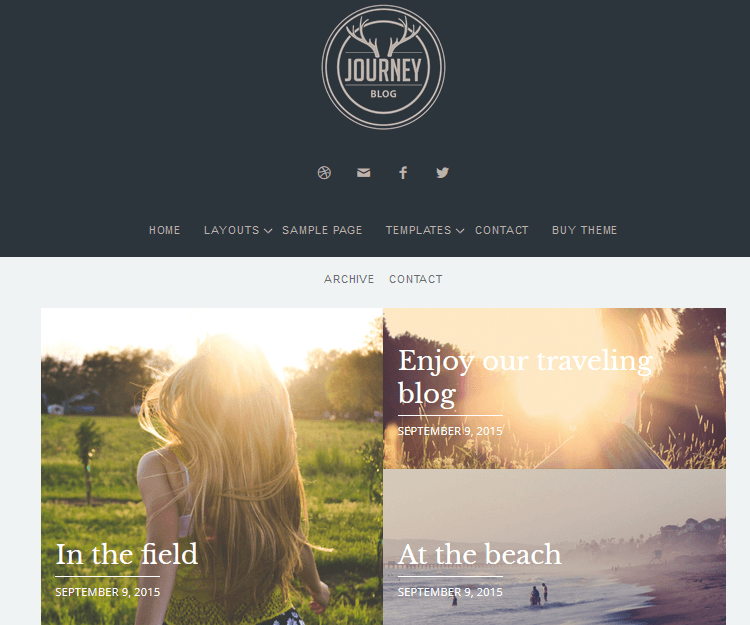 Journey is a blogging theme built on the required Genesis Framework. Meant for solo bloggers and world travelers, Journey offers two color schemes, accent colors, and set featured images for sharing your experiences. In addition, use the Live Theme Customizer to switch between a dark and light color scheme, upload a logo and favicon, and even change the background color.
Using HTML5 markup and CSS3, Journey brings crisp imagery and featured-videos to the screen for site visitors to enjoy. It also has 3 widget areas in the footer, demo content you can upload to your own site, and the option to display your content with a sidebar, as full-width, or in columns so your website is unique to everyone else.
9. Metro Pro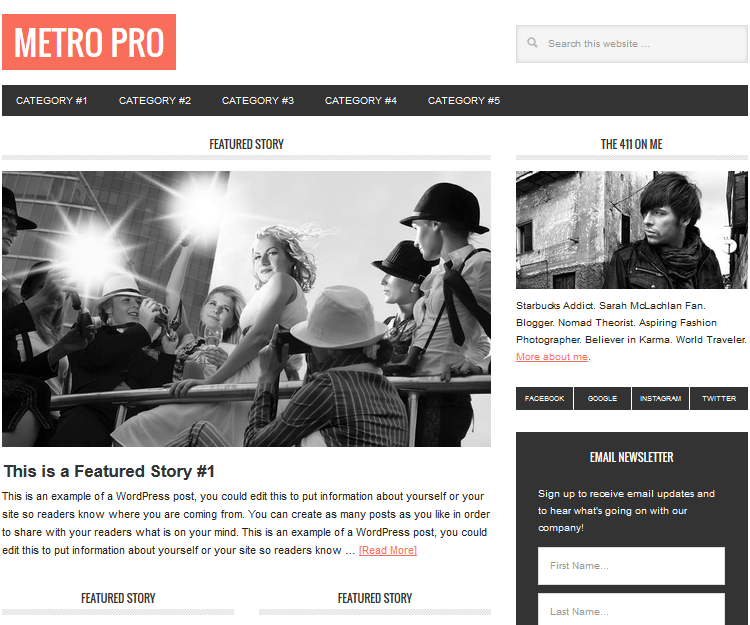 Metro Pro is another popular Genesis child theme brought to you by StudioPress. With a modern-style magazine style layout, and a wide frame for showcasing your breaking news stories, Metro Pro has it all. Featured images in many sizes, with multiple layout options, and plenty of color schemes, you are sure to create something unlike any other.
Add custom widgets to the sidebar, display your content full-width for less distractions, and have your visitors hit up your landing page first for an increase in conversions. And don't forget the various social media features included for connecting with loyal followers and expanding the reach of your content.
10. News Pro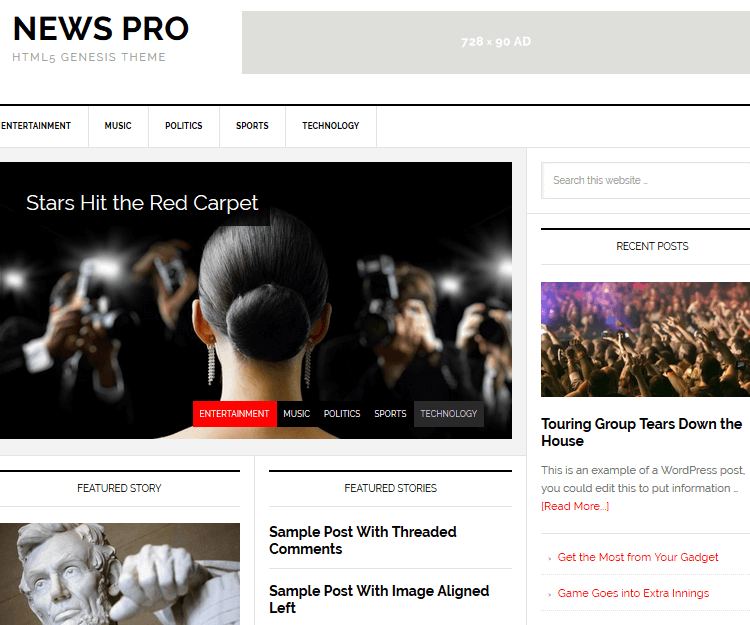 News Pro is a website publisher's dream child theme. Supporting articles, audio, and video, there is nothing you can't share with your eager readers. This content-heavy theme focuses on the important things – killer content, eye-popping design, and simple navigation for a great experience.
Multiple widget areas make sure you give your readers all the information they crave, from top to bottom. Display featured stories and posts with various sized images, prioritizing the most important content. Monetize your highly trafficked site using the convenient widget ad space and encourage your readers to subscribe to your newsletter and connect via social media.
11. AgentPress Pro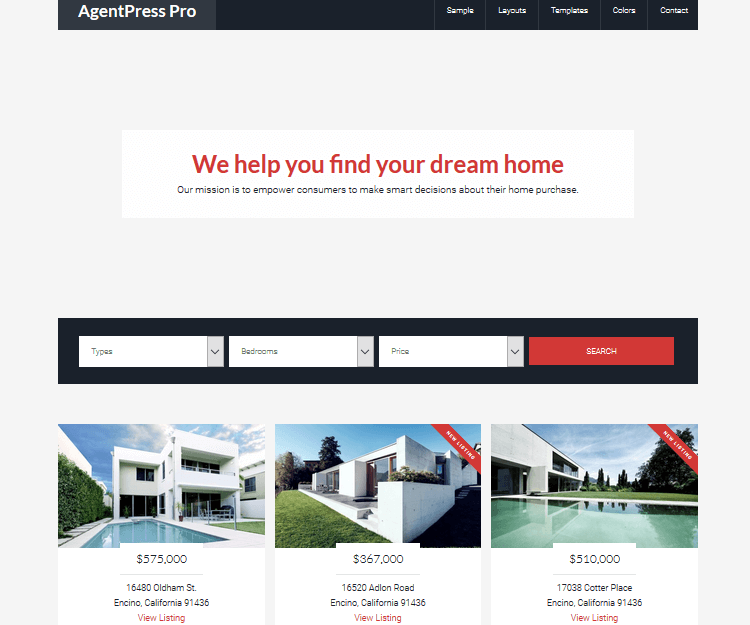 AgentPress helps savvy real estate agents build a better business and gain more clients with its sleek design, powerful functionality, and smart listing capability. Showcase your services in a buyer-friendly way and rise to the top of the market. Multiple layouts are possible for a cleaner, more minimal look, or more informative design complete with sidebars.
Featured listing images display a short description and link to additional information so your clients know exactly what is available at all times. There is even a unique filter feature in the search bar so clients looking for something specific can find it in a cinch. Scrolling down, site visitors can explore your blog posts, subscribe to your email list, and see all of your contact information, even connecting to Google Maps for directions to your office.
12. Penelope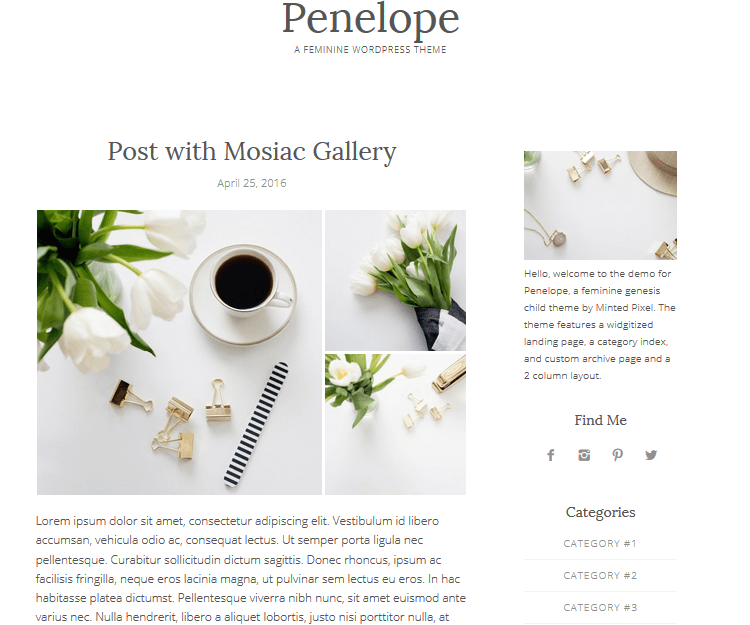 Penelope is a feminine Genesis child theme featuring a widgetized landing page for a unique look, a category index, a custom archive template, and a 2 column layout. Using the WordPress Customizer you can upload a header image and change your website's color scheme to match the look you are aiming for.
Additionally, Penelope includes a custom default gravatar for those who interact with your content and don't have a picture to match the name. Beautiful 'Read More' bars match the color scheme of your website adding to the theme's delicate nature. There is also an awesome footer section for subscribing to your newsletter so there are no lost opportunities to gain a new subscriber.
13. Centric Pro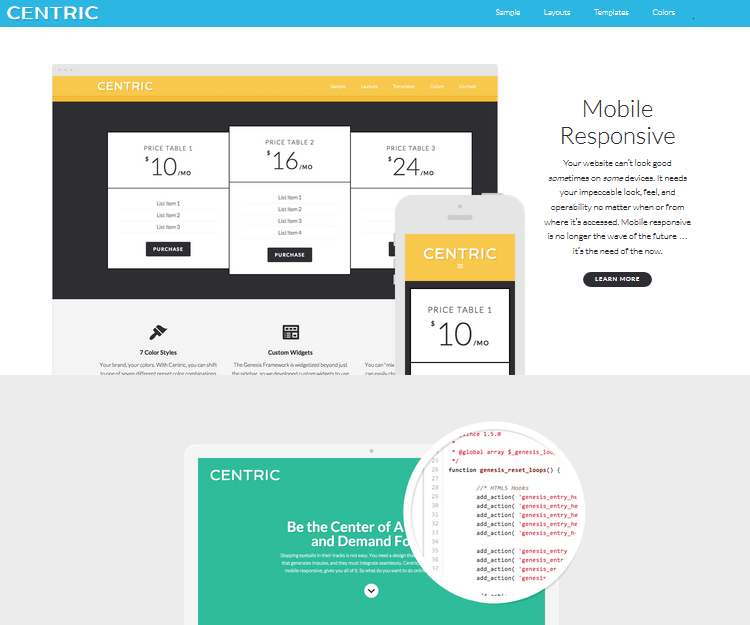 Centric Pro aims to reduce bounce rates with its stylish one page web design that is all the rage these days. Readers are drawn to your website and simply continue scrolling as they take it all in. 7 built-in color styles make this child theme extremely customizable so that you can claim this website as unique to others using this theme.
In addition, Centric Pro offers mobile-friendliness, a customizable header complete with a personal logo, and custom page templates. Tailoring your website to meet your needs is simple using this one page Genesis child theme.
14. Expose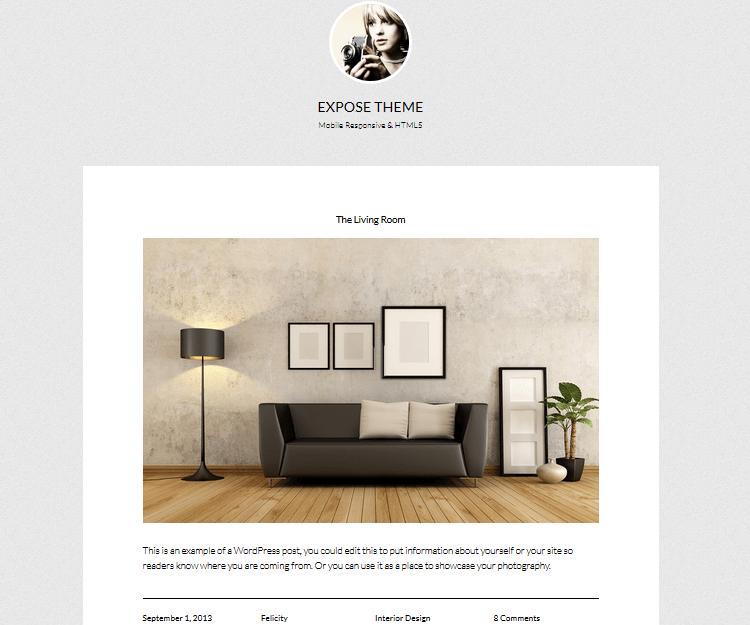 Expose is for those who simply can't stop sharing their beautiful photographs with the world at large. Highlight your best work as a portfolio or include written content in the blogroll layout. Either way your imagery takes center stage and is not to be missed by anyone clicking on your website. Include social media share options, an opt-in box, and other information in the footer area.
One neat feature included in this theme is the ability to leave a comment on a particular photograph directly from the homepage. Your reader never has to click to the content post, they can simply comment right then and there. In addition, there is extensive Meta data at the bottom of each image so site visitors know the preface behind each photo.
15. Caroline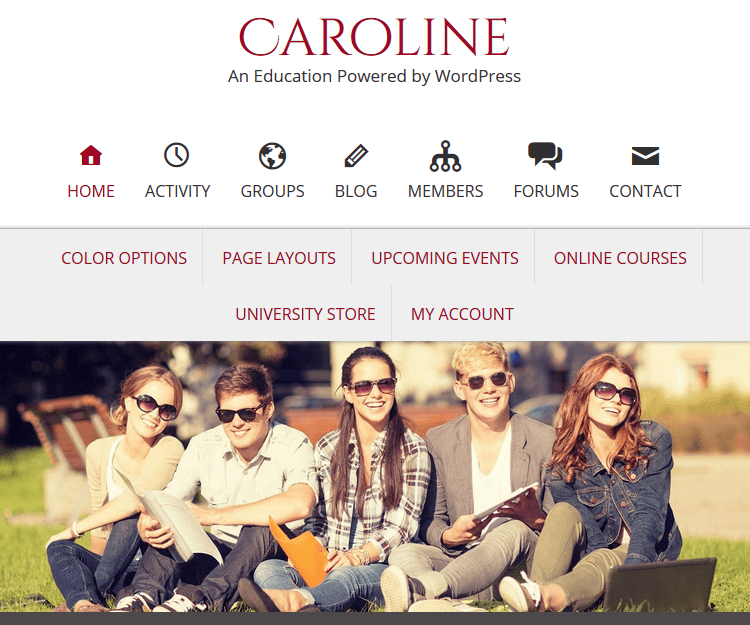 Caroline is a Genesis child theme that caters to the education industry. Academic websites for universities, colleges, and K-12 schools benefit from the features Caroline offers. For instance, this theme has alumni/member profile capability, forum options, and an online store. It even has a built-in learning management system designed for selling online courses.
Calendar all activities with Caroline's event calendar and even start building a serious email list. Also utilize call to action buttons to make readers take action. Lastly, this theme is mobile responsive for students on the go and is well-coded for fast page loading.
16. Ambiance Pro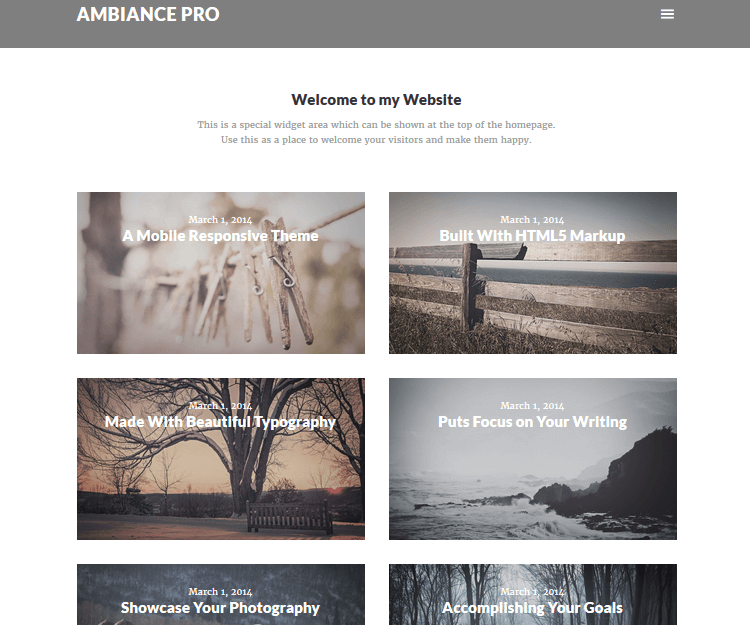 Ambiance Pro is a distinctive child theme built on the Genesis Framework. With a widgetized front homepage in a grid-like fashion you can showcase all of your best work. Adding to its minimal feel is a hidden navigation menu tucked away in the corner so as not to distract from the imagery that is front and center.
Create an exclusive author page with a bold header image, add social media share buttons in the footer section, and enjoy beautiful typography. More so, link your photographs and images to blog content so your readers can learn more about you and your passion.
17. Patricia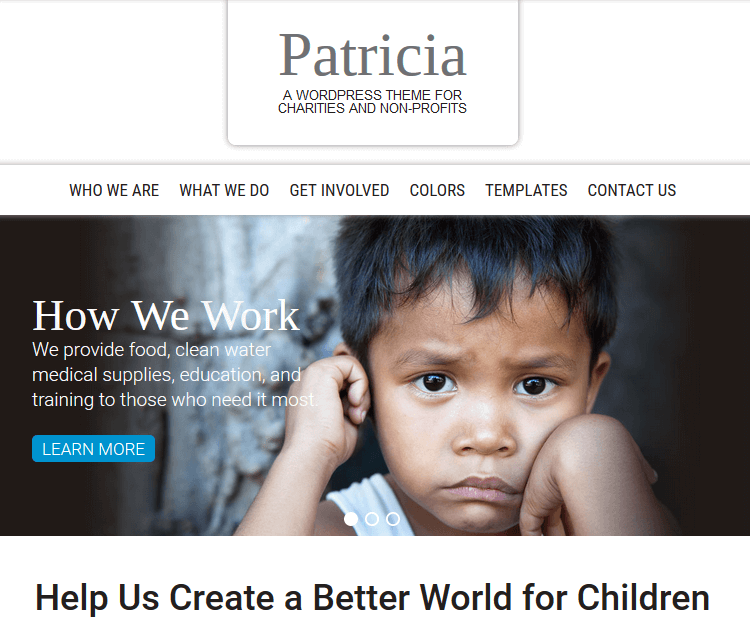 Patricia is another great Genesis child theme from Web Savvy that is built upon the Genesis Framework. Designed for non-profit organizations, Patricia has 6 color options and is SEO friendly for attracting visitors and keeping them engaged. Featured post images, multiple sidebars, a widgetized homepage, and call to action widgets help you get your message out to everyone.
This theme offers an optional event calendar should that apply to your charity, as well as a photo gallery which is a nice touch. These features, paired with your extraordinary efforts to help the world at large, will surely make you stand out amongst your intended audience.
18.  Shine
Shine is a photography Genesis child theme that would be perfect for sharing your big day with everyone that follows you. Or, as a wedding photographer highlight your best work for enticing future clients.  As an HTML5, mobile-responsive, and SEO optimized theme, you don't need to worry about getting found. With its delicate and feminine touch, and focus on the imagery you showcase, you can build a beautiful website.
Pick from one of 7 color styles, 6 layout options, widgetize your homepage, and make it easy for readers to decide which move to make next using the visual category index.
19. Rachel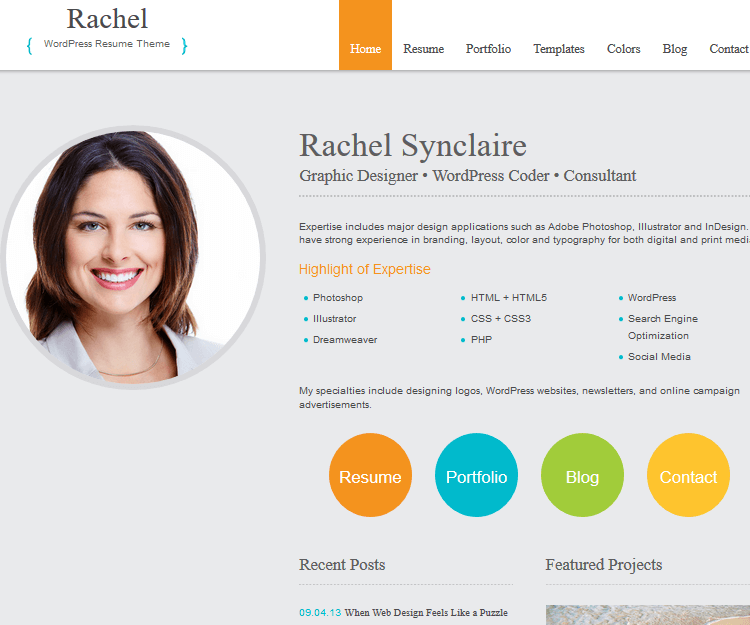 Rachel is a theme built on the Genesis Framework that is great for those looking to advertise themselves online. Perfect for CV and personal websites, this child theme includes four color options, a flexible image rotator, and of course, is 100% responsive.
Include multiple sidebars for highlighting your best achievements and contact information. Enjoy the built-in portfolio capability for adding work that needs displaying to potential customers or employers. Use the resume template to build your reputation, implement pre-styled Gravity Forms, and even add blog posts to boost your authority.
20.  Vanilla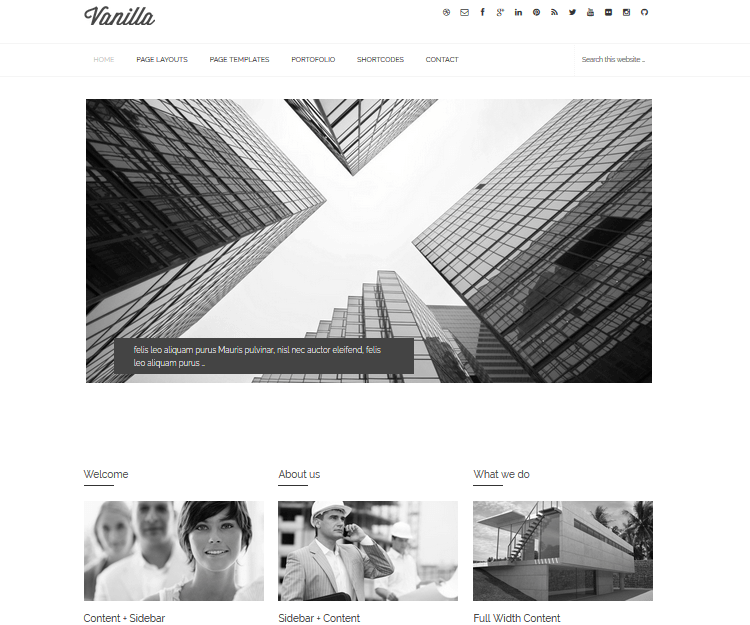 Vanilla is as plain as vanilla ice cream is. Full of whitespace, a clean vibe, and a modern layout, this Genesis child theme is perfect for a variety of websites. Built with powerful and lightweight code, Vanilla is SEO friendly, compatible with major browsers, and is mobile-friendly too.
Spice it up a little and add a widgetized sidebar, or keep it simple with the full-width layout.  Choose how many columns to display your portfolio in. Add any number of available shortcodes to spruce up your theme's functionality.  For instance add info boxes, buttons, a lightbox, and even pricing tables. This theme is well-rounded and will work for any type of project you have going on.
Final Thoughts
So, there it is. A list of 20 amazing Genesis child themes for websites of all kinds. There are so many child themes available for the Genesis Framework, it would be impossible to list all the good ones. However, I hope this roundup has provided you with a little bit of everything so no matter which type of website you decide to create, you have something solid to pick from as far as themes are concerned.
Have you used any of the above mentioned Genesis child themes for your website?  Have I left one off of the list that you feel should have been included?  I would love to hear all about it in the comments below.