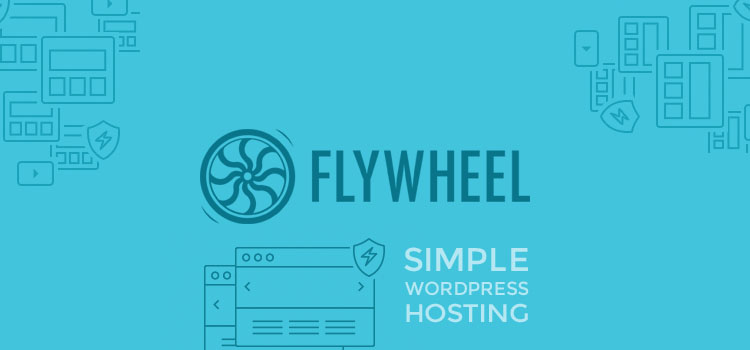 Flywheel Review: A Functional Solution for WordPress
To stand out among the competitive blogs and sites that receive high traffic, you'll need a powerful weapon up your sleeve – a great, efficient, and powerful hosting platform – Flywheel hosting for WordPress.
Hosting services for your site tend to make your site more powerful and faster than before and Flywheel is one of the top contenders in the hosting industry. In this article, we'll review the Flywheel hosting service and look into the features it has on offer.
Let's get started.
Company History
The Flywheel website is expertly designed, their dashboard is intuitive and easy to use, and the company itself is massively popular in the WordPress community.
Flywheel started in 2012 with a simple mission – to improve the lives of the millions of web designers & developers worldwide that build sites on the WordPress platform. – Flywheel
Founded in 2012, Flywheel was started out small but has made quite a name for itself in a few years. Now, it is one of the most popular web hosting services available for WordPress users. They gave what the people wanted. Flywheel offers so much to their customers in terms of features and after-sale services.
Flywheel's Features & Review
Flywheel owes its popularity to the top-quality features it has on offer. Let's take a look at some of the stand out features it provides its customers.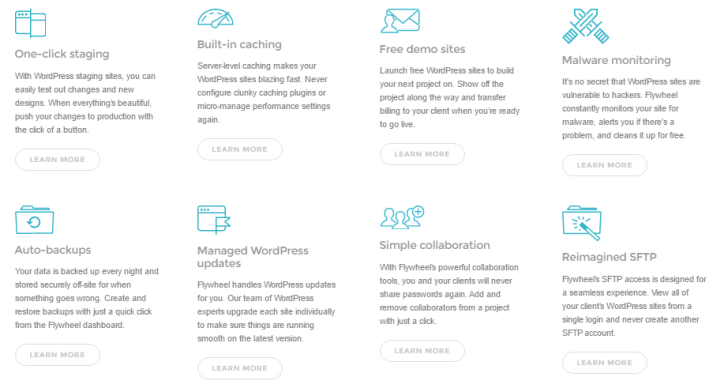 1. Managed WordPress Hosting
Flywheel offers managed WordPress hosting which takes care of all of your back-end tasks including site maintenance and development as well as site security. With managed WordPress hosting you don't have to worry about things like security measures or updating your site's themes, plugins, or even the platform itself. Instead, you can divert your focus to actually running your business and acquiring a larger customer base.
Flywheel offers this great feature so you won't have to mess with the servers or the updates – all of those problems will be automatically be taken care of by their dedicated team of WordPress professionals.
2. One-Time Login
You are probably fed up with the fact that you have to login again and again into your different WordPress sites which can really be a problem especially when you are short on time. With Flywheel's one login feature you don't have to login over and over again into all of your sites; just do a one-time login and you can access all of your sites and manage them through Flywheel's intuitive, user-friendly dashboard. This really helps in saving much time and you can now easily manage all of your projects through a single, powerful platform.
3. Free Site Migration
Ever heard of site migration? More importantly ever heard of free site migration? Flywheel offers this great feature which helps in shifting all of your site data from your current host to Flywheel. Just within 24 hours, your site data will be transferred to Flywheel before your site goes live. And all of this can be done easily by filling out a migration form. Seriously! That's all there is to it.
But if you like to do things your own way, you can also migrate your site by yourself too (provided you know how to). If you need help migrating your WordPress site by yourself, Flywheel provides a video guide and a migration walk-through which you can use if you are stuck somewhere in between. In both scenarios, Flywheel helps you in the migration of all of your sites and best of all it's free so you don't have to pay for this amazing feature – it comes right out of the box with each Flywheel plan.
5. Demo Sites
With the free demo sites that Flywheel offers, you can create sites and perform all of your experiments until you get the best outcome of it thus making your site even more perfect. And don't worry, you won't get charged for those demo sites until and unless you go live.
This is a great way to work out all of your styling and design if you have a few in mind and test out the waters before you dive right in head first. Plus, this may result in a better outcome of the overall experience of your site. It's a win-win situation.
4. Flywheel Collaboration
Many people working on a project need the login credentials to work properly. But some people may feel insecure while putting up developers to work on your site as they have the same login credentials as you have. With Flywheel Collaboration, you can set up different accounts and appoint them to your different partners. After completing the work you can delete those accounts easily just like you created those accounts. No need to hand out the same login credentials as long as you are using Flywheel.
6. Built-in Caching
Paying extra always feels expensive especially when you have to pay for caching services or plugins which enhance the overall performance and user experience of your site. Why pay extra when you can get all of those services in just one bundle?
Flywheel comes with built-in caching which is a part of their hosting plans. This means that your site is fully optimized and offers improved performance as the pages will load up very quickly. You can get all of this free of charge as long as you sign up for Flywheel hosting for your WordPress site. In case you're still not convinced: better optimization and performance leads to better traffic thus increasing the sales or views on your site. Free caching on every plan – it's a no-brainer!
7. Regular Backups
The greatest fear a webmaster faces is losing all of their content due to any number of unexpected reasons be it hacking or malware. If you are using Flywheel hosting for your WordPress site then that fear will be gone forever.
Flywheel automatically backups all of your site data regularly into another offsite location which can be restored in case you wake up one day and find all of your site's data is gone. This is a great way to save all of your hard work which you put into your site without actually having to worry about (or remembering to) doing it yourself.
8. Billing Transfer for Developers
Another amazing thing about Flywheel is that if you are creating a site for your client, you can easily transfer the bill to the client using the client billing transfer option. You don't have to pay for the site in order to complete your project, it can be easily paid by your client through Flywheel.
 An Analysis of Flywheel
All of these great features make Flywheel hosting one of the best. But other than an enticing array of features, how good is it in real life in terms of speed, performance, and customer service? Let's take a look.
Speed
Speed is a crucial factor whenever you are in the process of selecting a new managed WordPress hosting solution for your site. Plus the price you pay for managed hosting services are pretty steep so, naturally, you expect blazing fast response times and optimal performance.
Flywheel hosting plans come with built-in server-level caching that guarantees exceptional performance in terms of speed. Another major benefit of this added feature is that you don't have to install third party caching plugins. It also saves you from having to micro-manage caching settings as it takes care of all of your caching needs from the get-go.
Flywheel hosting for WordPress delivers absolutely amazing results when it comes to page loading times. Without any plugin or change of settings, Flywheel will deliver a very high speed, making you site even more functional and powerful. We're hosting this site on Flywheel and it performs exceptionally well in terms of page loading time. Don't believe us? Check out the results for yourself!
Pingdom Test Results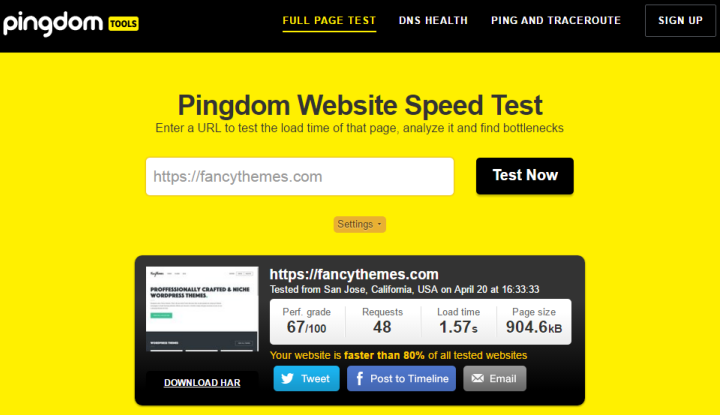 The page load time test conducted on Pingdom tools indicated that our 904 KB sized webpage loaded in 1.57 seconds and received 48 requests. Not bad!
GTMetrix Test Results

When we tested FancyThemes out on GTMetrix, we found that the 882 KB sized webpage receiving 40 requests loaded in 2.0 seconds on the dot! It gave excellent results in the PageSpeed Score box coming in at 93%.
Although a site's page loading time depends on a ton external factors which may influence the test results, you can still get a pretty fair idea of how a particular hosting provider ranks in terms of speed. This high speed will help you get better customer reviews or generate more traffic to your site.
Performance
Another important factor to take into consideration is how well your site performs under heavy load. Most of today's sites don't do that well and end up slowing down significantly in case of heavy traffic. This results in the loss of viewers and subscribers.
With Flywheel, your site will deliver amazing performance even in case of heavy load. Your viewership won't notice a difference in speed even on the busiest of days!
Customer Service and Reviews
Not that you'll have any problems when using Flywheel hosting but if you do, the amazing customer service proves to be good help when solving little problems. You can call, tweet, or mail them to get help and they are very fast in replying to your problems. This results in better performance and uptime of your site.

You'll never find yourself in a situation that you'll have to call someone other than the support team of Flywheel hosting – they have some of the fastest and most efficient customer service representatives. The company doesn't just offer a ton of features with their hosting plans. They actually understand their customers' needs.
The reliability, speed, and support are all amazing – but where Flywheel really shines is their deep understanding of the needs of agencies and design firms. – Joe Olsen, Phenomblue
The Washington Post and Phenomblue are two wonderfully designed websites – and guess what – they're both on Flywheel hosting. Flywheel's customers rave on and on about the amazing features the company offers along with their dedicated customer support staff. Customers who aren't particularly tech savvy or short on time have nothing but wonderful things to say about how the company caters to their needs by offering free migrations and taking the stress out of the web development experience.
Plans and Pricing
Flywheel has a variety of hosting plans on offer that offer great value for money. Each and every penny you pay for hosting will is efficiently used in terms of the overall performance and whatnot.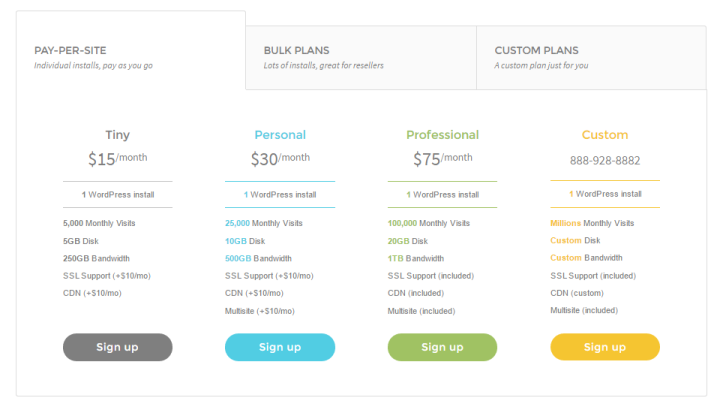 Another pretty neat feature Flywheel offers is that it designs custom hosting plans for large-scale companies who are looking for a unique plan that's tailored to their site's needs. By visiting their Custom Plans tab, you can tell them everything you want and they'll give you a quote for it.
Everything from custom disks to custom bandwidths is permitted along with support for millions of monthly visits. Talk about a premium service!
If you're still unsure about reaching for your wallet then think about all the great features that will be provided and think about the overall outcome on your site upon using the amazing features. Even if you have a large-scale website, your site will be in the hand of experts and will be taken care of efficiently. You'll surely feel a large difference while using Flywheel hosting for your site. It's no surprise that it's rated as one of the best hosting services in the market.
Flywheel Review – Wrapping it Up
Flywheel has millions of satisfied users to date and a considerable number of high rated blogs and sites trust Flywheel as their hosting provider. If you are a developer setting up a site for a client or for your own use, Flywheel hosting should definitely be on your list of contenders.
Not only does it have so many amazing, exclusive features on offer like free demo sites or client billing, but it also provides optimal performance. It will not fail you in any test you throw at it.
Have you tried Flywheel? How was your experience using Flywheel hosting for your WordPress site? Let us know in the comments section below!