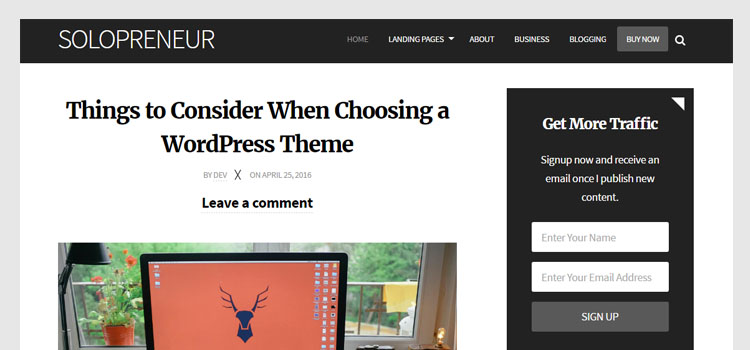 Solopreneur: A Hand-Crafted Theme for Your Blogging Needs
A theme designed to cater to needs of bloggers, our very own Solopreneur is easy to set up and plain gorgeous to behold. Solopreneur puts your content center stage to captivate your visitors' attention and makes the most of white space enhancing their browsing experience. Combined with the powerful Optin Forms plugin, you'll have a lean, mean, lead-generating machine!
It brings a fresh outlook that, while not flashy, feels vibrant and delivers a pleasant reading experience to your viewers.
Key features of Solopreneur are:
Featured Post Image (width is 1024px & height depending on the ratio / image width).
Inclusion of two gorgeous landing shipped with the theme – Landing Page 1 and Landing Page 2.
Two column footer for added customizability.
Social media in the footer with social sharing icons shipped with the theme.
Live customizer support.
Centered Around Blogging
With the focus of the theme around blogging its layout is designed in a way to make for a comfortable reading session. Everything is neat and organized and looks great on all display types and sizes.
It is also fully compatible with our Optin Forms plugin. You get access to premium support for any help you might need setting up the theme. Solopreneur is a great, well-rounded theme which also brings great performance to the table.
A responsive design –perfect fit for every device.
Clean code and solid design.
Secure, with swift load times.
For complete details and to view the demo site, see the: Solopreneur sales page.