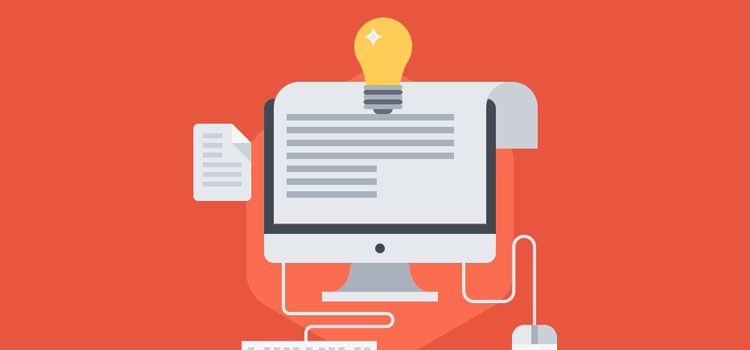 Top WordPress Blogging Themes for Showcasing Your Content
WordPress offers one of the most flexible and fully featured content management system platforms for bloggers. It is easy to use, has plenty of customization options, and is great for expressing all of your ideas in the written form. Plus, with a huge selection of themes to choose from, creating a blog that is different than anything else out there is not only possible but fun as well.
Offering a wide range of options for casual bloggers all the way up to full-fledged corporate businesses, WordPress is undeniably one of the best blogging solutions. For example, WordPress provides stylish choices to match any industry, an assortment of features that add to your website's functionality, and the power to reach readers across the globe. That's why today I am going to share with you 30 of the very best WordPress blogging themes available.
1. Solopreneur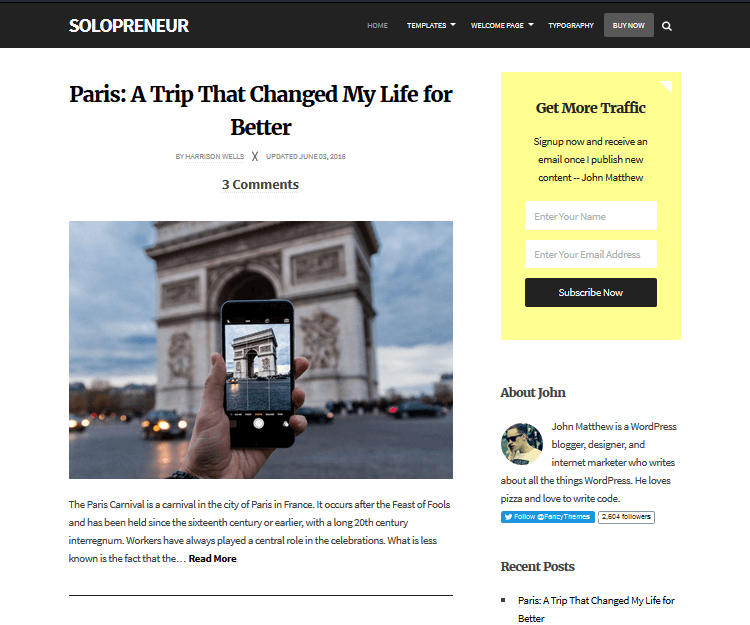 Solopreneur is a responsive blogging theme that provides bloggers with more than just a canvas to share ideas. Created by the dedicated team at FancyThemes, this theme has everything you need to create a successful blogging website. For instance, it helps to boost your email list building efforts by including two custom made landing pages, at no extra cost to you.
In addition, it is compatible with FancyThemes' own Optin Forms to help elevate that email list building strategy. Lastly, the unique footer call to action helps grab those readers that haven't subscribed just yet.
With Solopreneur you can establish yourself in your industry easily by designing personal logos and uploading favicons for easy recognition. Plus, you can implement social media icons throughout your blog content to increase sharing of your killer content to a wider audience. Utilize the drag & drop widgets to encourage viewers to read more of your content. Rest assured your website performs at optimal speed due to the lightweight nature of the theme. And if nothing else, write great content that will keep visitors coming back for more.
Creator:
FancyThemes
Ratings:
Not Available
Price:
$59
2. Peek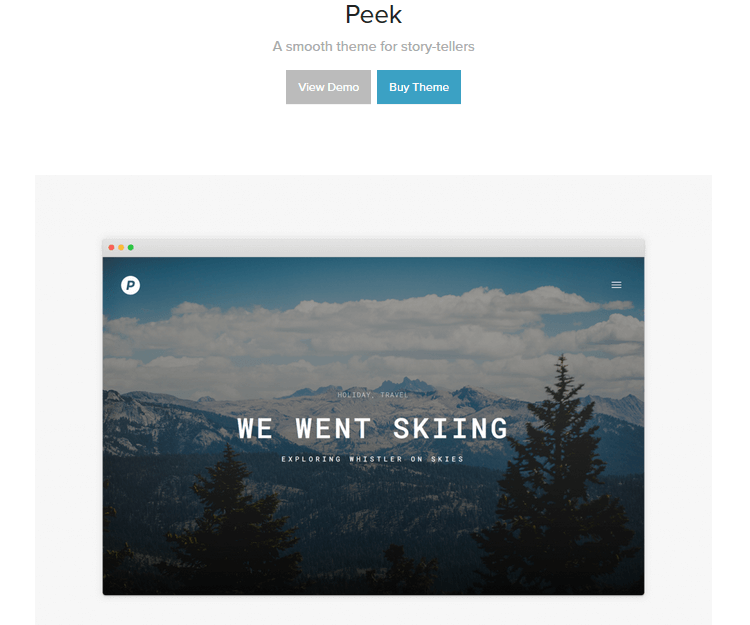 Peek is a smooth blogging theme meant for the story-tellers at heart. Fill your pages with full width content and engage your visitors with beautifully enhanced parallax photography. This theme has a slim and minimal feel so that your visitors know exactly what to focus on – your content. However, it never lacks in visual appeal due to its endless scrolling feature, overlay navigation complete with 2 menus, and three column widgetized footer area.
Built for a seamless user experience, Peek will never disappoint your site visitors. It is highly customizable to match the look and feel of your website's content. It is easily translated for an increased global presence. And lastly, it comes carefully maintained, updated and with amazing support should you run into any problems designing the perfect blogging website.
Creator:
HammerThemes
Ratings:
Not Available
Price:
$59
3. Lightly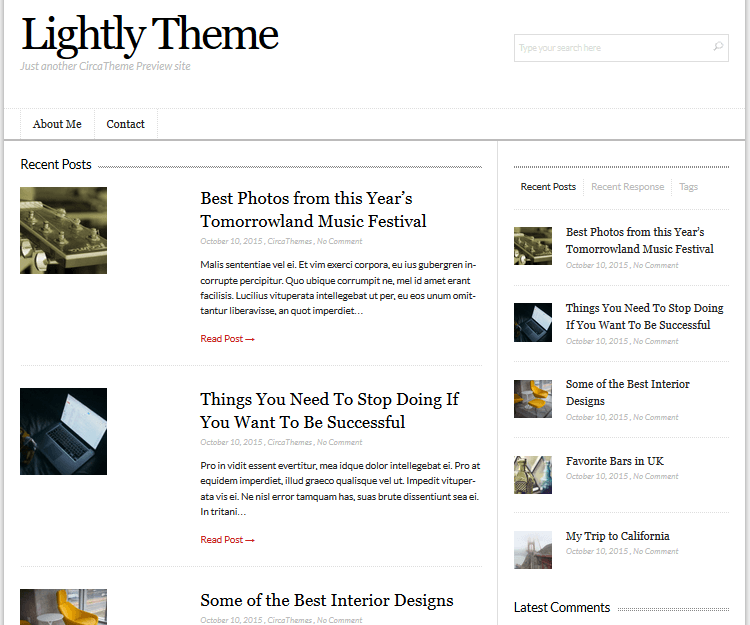 Lightly is a minimal theme with a clean and modern look for those who want to concentrate on content.  Utilizing generous whitespace, your readers will never miss your biggest news story.  It is easily customized using the intuitive interface and provides all the tools required for tailoring your website to match your needs.  The homepage is built to attract attention using the automatic slider complete with thumbnail images, post titles, and excerpts.  And to make matters even better, your blog is made easily navigational with a simple, yet clearly defined menu underneath the header.
Enjoy localization files to translate into any language possible. Receive continual updates for the best performance. Share images, video, and audio with your blog followers that are responsive and retina ready. Basically, anyone, anywhere will be able to access your blog and read what you have to share with the world.
4. Palmas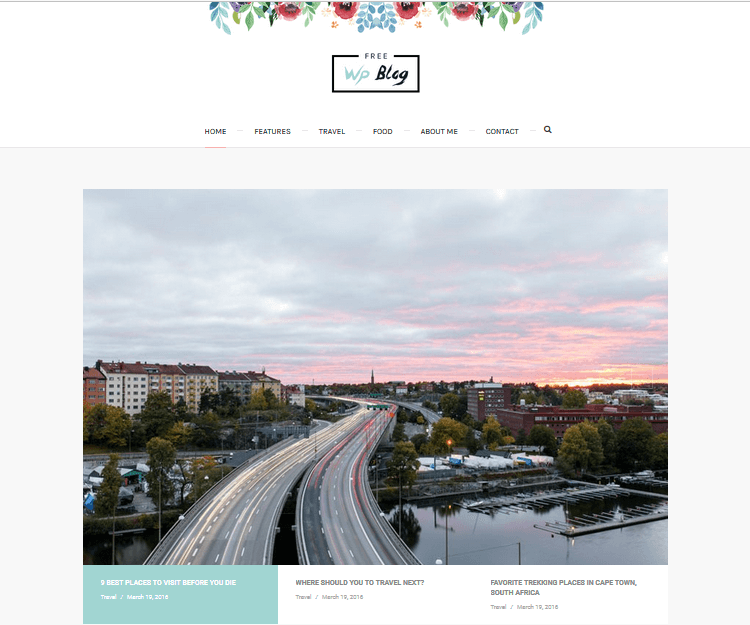 Palmas is a blogging theme at heart perfectly made for those who simply love to write. It is elegant, simple, and full of whitespace to let your content shine. In addition, it keeps readers interested in your content by including a large featured image slider that takes up most of the homepage. Palmas comes with a homepage and blog layout template, customizable sidebar widgets, and the intuitive use of breadcrumbs for an improved user experience. Plus, since it was built 100% responsive, readers can check your blog out on any device.
Include a logo front and center so readers can remember who their favorite blogger is. Customize every color using the Live Theme Customizer. Even offer a bit of information for each blog post so site visitors will know exactly what the post is about before navigating to it. In the end, Palmas is all about giving you the space to write while providing readers an easy time visiting.
5. Daytona
Daytona is another great blogging theme brought to you by HammerThemes. In an effort to allow bloggers complete creativity and control, this theme provides 10 different blog layouts and grids. There is no doubt your blog will be unique. In addition, its wholesome look lends to any type of blog you have in mind – photoblog, portfolio, food, fashion, even magazine – the ideas are endless.
Readers will enjoy a beautiful full width hero image upon clicking on your website. They will have easy access to all of your content using the infinite scrolling feature for easy browsing. In addition, Daytona is bloat-free and far from multipurpose. Your theme will never drag due to countless features you are not interested in using for your blog.
6. Genesis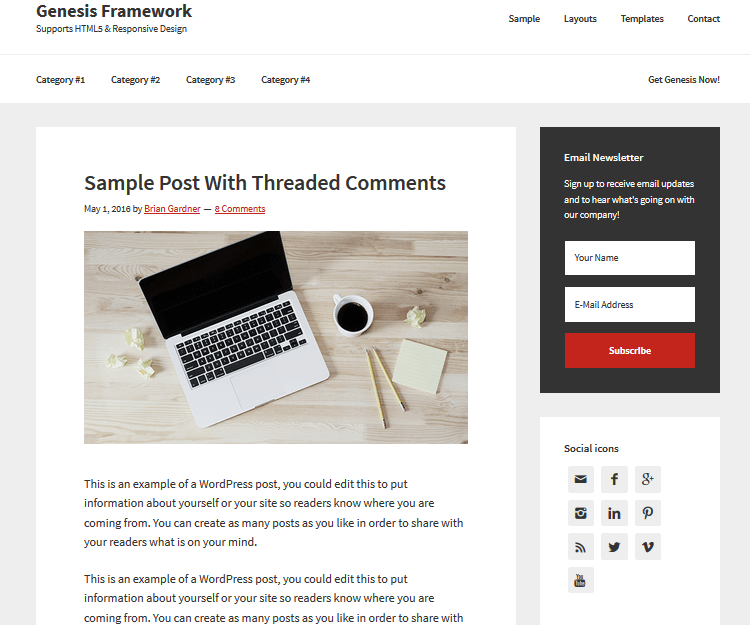 Genesis, although technically just a parent framework that is often used with specialized child theme templates, is still great as a blogging theme all on its own. Brought to you by the impressive team at StudioPress, Genesis has proven itself as one of the top WordPress themes available. On its own this theme gives you a quick and easy way to build a website from scratch on WordPress. Custom page templates such as the Archives, Blog Page, and Landing Page make creating a blogging website simple. You have your pick from several featured content widgets for highlighting featured posts, a featured page, and even providing profile information.
Built mobile responsive for those on the go, Genesis also has a fully customizable header, multiple layout options, and ways to get word out across all of the popular social media networks. Alone this theme is great for any blogging website. Paired with a niche specific child theme, and you are really in for a treat.
7. Risa
Risa is a trimmed down blogging theme providing only the essentials to get the job done. For minimalists who don't want a lot of extra features bogging their site down and overwhelming their followers, this is the perfect theme choice. There are limited distractions with Risa, though an impressive full width header image lets readers know you mean business. Built SEO optimized for great Google indexing, this theme will attract viewers from all over.
Additionally, Risa allows for color scheme customizations, brand recognition such as a site title and personal logo, and is regularly updated so site performance is never sacrificed. If you are looking for a simple and easy to use blogging theme, Risa is a great option.
8. Bold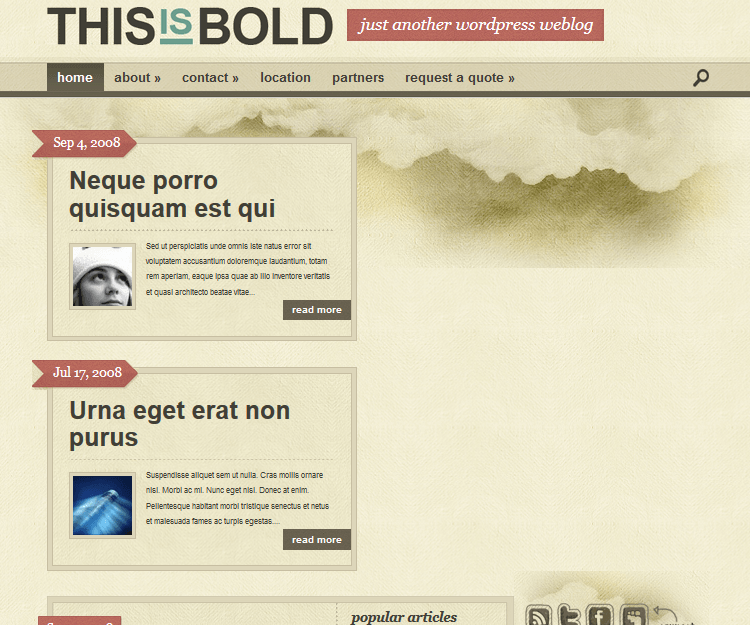 Bold is an Elegant Themes blogging theme that can really bring your content to life. It carries the perfect mix of style, strength, and fun. With bold typography and heavy textures, your site visitors feel the energy of your blog right away. In addition, its five unique color schemes are a little outside of the box giving this robust theme a bit of a rustic look. Completely localized for easy translation, and working on all major browsers, all of your site visitors near and far will have access to your website.
Toggle your site's features on and off, manage advertisement space, and adjust layouts without ever touching a line of code using Bold's intuitive ePanel. Create a highly converting landing page and boost email subscribers to your blog. Plus, make social media sharing buttons visible to encourage readers to share the information they like with others. Bold makes it easy to stand out; all you have to do is create the perfect content.
9. Karen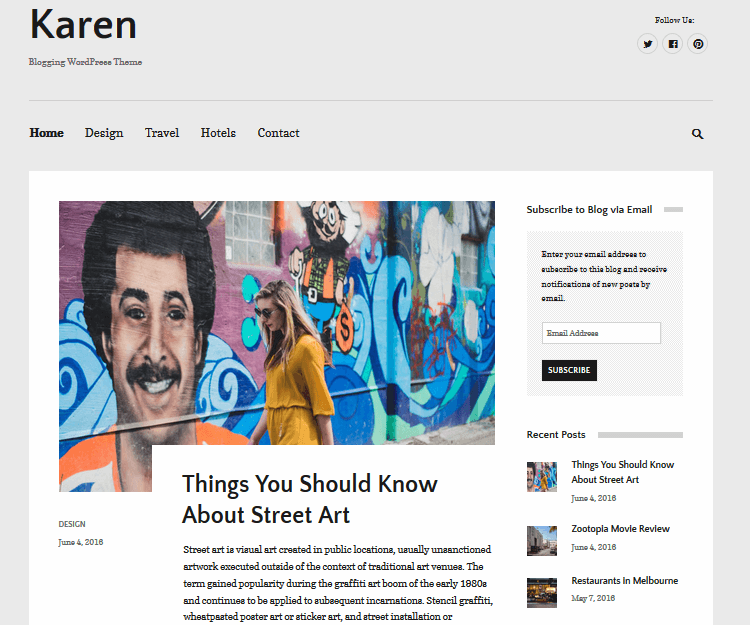 Karen is a blogging theme that offers a lot for a little. Dedicated to making it easy for you to customize, increase functionality, and provide great content to your readers, Karen is a fantastic option. Customize text, link, and background colors for personalizing your blog. Take advantage of the several post and page types that cater to many niches. And lastly, give your readers a boost in the right direction with widgets pointing to recent posts, categories of interest, comments, or even the archives.
This theme is unique in that it allows you to include thumbnail images in the sidebars plus choose which side to display the sidebar on. This creative option makes better use of your blog's retail space while encouraging your site visitors to explore your content. Showcase your best posts using the built-in slider with horizontal slide or fade effects. Create a full width footer to display additional website information. Even promote social sharing by adding in social share buttons.  In the end, do a whole lot with a little. That's what Karen is all about.
10. Writing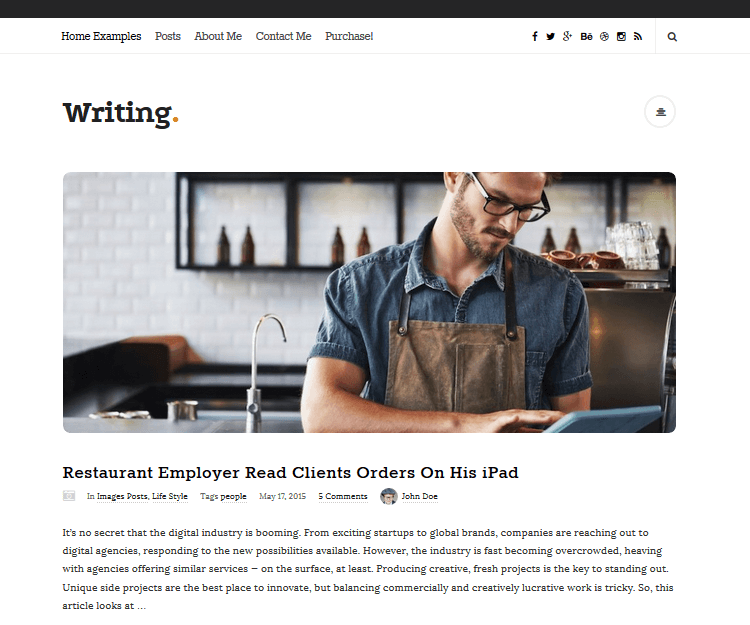 Writing is for bloggers looking for a simple theme solution for creating content that readers will enjoy. Without all the excess design and flash, Writing mixes a classical, modern, and minimal style to bring you the most stylish basic blogging theme there is. Most notably is the included typography options meant to focus your readers' attention on your written word and improve readability.
Additionally, Writing is SEO optimized for maximum exposure in search results. You also have the choice to display your content using several different styles – default, classic, list, and masonry – whatever suites your website's overall feel. Responsive and retina ready, built using Open Graph for great social media sharing style, and boasting an easy setup, those looking to just start writing should invest in this blogging theme.
11. Farben Basic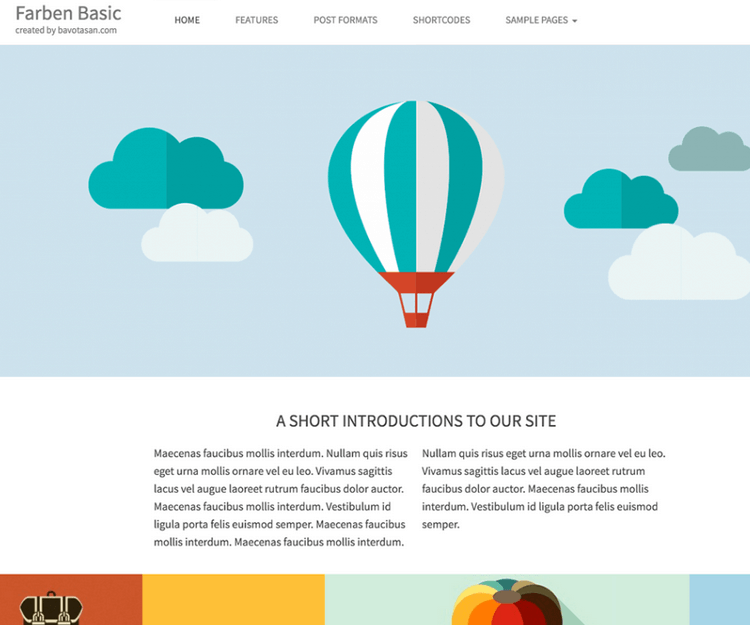 Farben Basic is one of the most unique blogging themes around in terms of overall design. Lightweight and fully responsive, this theme offers excellent use of flat design paired with a simple layout. However, do not let simplicity dissuade you from checking it out. Including eight different post types – video, image, aside, status, audio, quote, link, and gallery – this theme lets you distinguish each blog post. Plus you can implement a carousel slider complete with title view using the free JetPack plugin.
Google Fonts helps to improve your content's readability so viewers want to come back for more. Plus, Farben Basic is compatible with bbPress, BuddyPress, and WooCommerce, and uses SASS, Compass, and Bootstrap 3. Because of this, you know your theme functions and functions well.
12. My Blog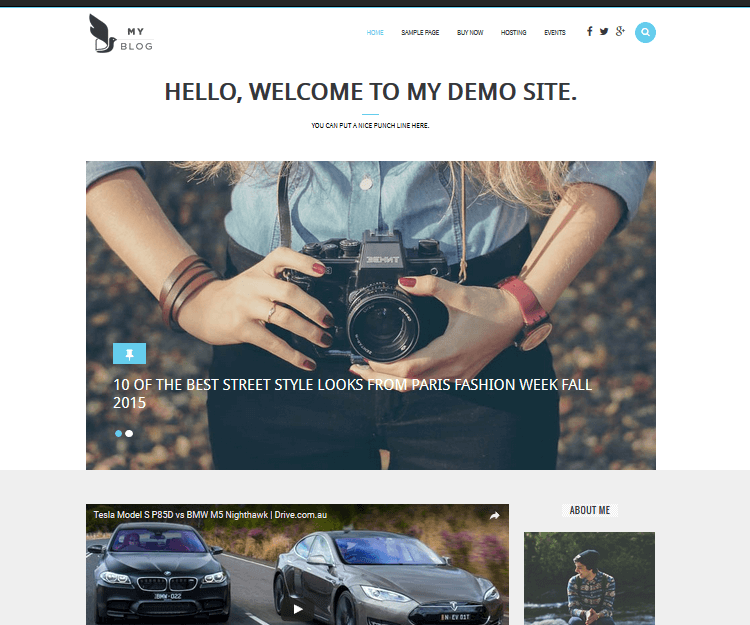 My Blog is everything any type of blogger will need to create great content and increase site traffic. Featuring two unique homepage layouts, multiple sidebar and footer widgets, and a featured posts area complete with slider options, this theme will give site visitors a reason to come back. Looking great on all devices, regardless of size, My Blog caters to a wide audience. In addition, it is SEO ready for high ranking potential. Simply craft keyword laden content that your audience wants and you will be indexed. It's as simple as that.
Credit those that work hard for you if you run a multi-author blog. This theme comes with a built-in author box feature for highlighting the person behind the written word. Gain more traffic and expose your content farther using the included social media icon sets. Translate your theme to reach those who speak other languages, create your own color scheme using the color picker, and even design a child theme for added security. My Blog truly is the ultimate blogger's theme.
13. Prolog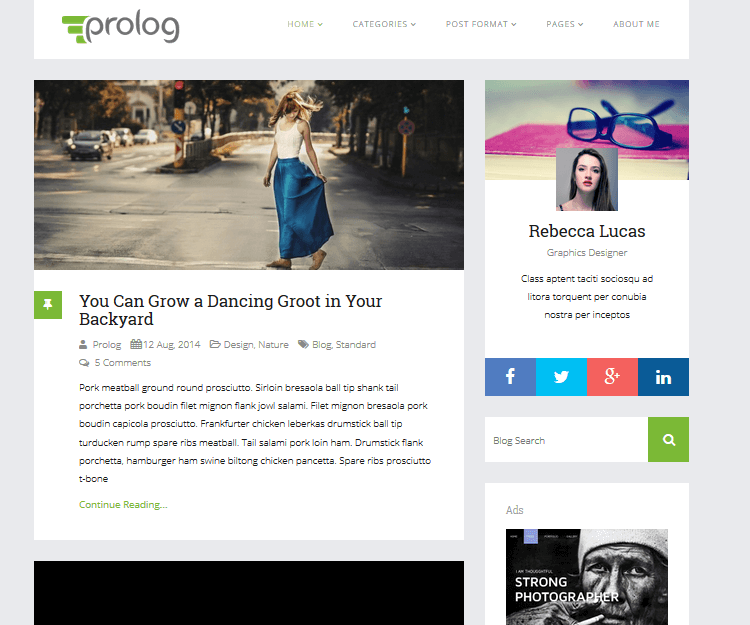 Prlog is a minimal and responsive blogging theme based on the trendy flat design. Using HTML5 and CSS3 to keep things user friendly on the back-end, Prolog also has one single classic post style to keep things easy on the front-end as well. All social media links are included for increased reader engagement and content sharing. Plus, to continue with the concept of keeping things easy, Prolog even comes with some built-in background images to use.
Choose from 6 preset color options to customize the overall look of your blog and focus on your writing. That's what the developers behind Prolog want.
14. Origin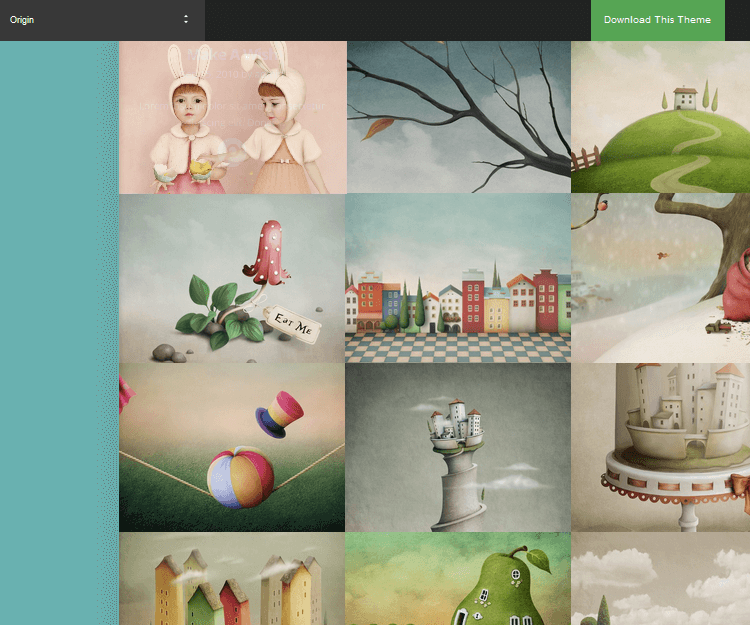 Origin is one of those wildly unique blogging themes meant to aid a particular type of personality.  This grid based theme offers you the opportunity to share stories using bold imagery. In addition, bold color schemes can add a pop of color to your website further engaging visitors. Utilize the large collection of included shortcodes to enhance your blog's functionality and add variety to your content. Choose from a selection of pre-made page templates for easy page building – galleries, contact pages, sitemaps, blog fees, and more.
Origin's unique ePanel gives you complete control over your entire website. Plus, it helps you optimize your website so that you are found by those interested in what you have to say. In the end, if you are looking for a fun way to engage readers, Origin has just the right amount of functionality and creativity to get the job done.
15. Severn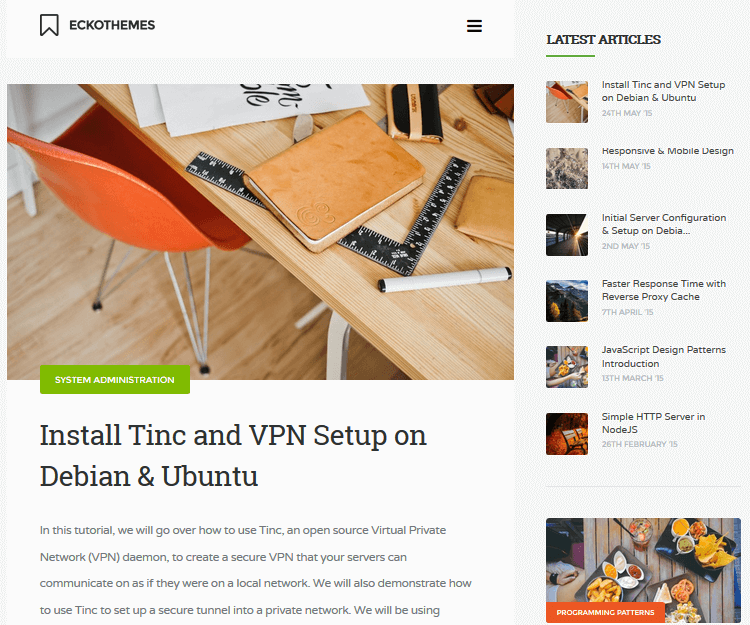 Severn is one of those expertly designed blogging themes that is blazing fast and allows for content display in a professional and engaging way.  Built retina ready for perfectly crisp images, and 100% responsive catering to those on the go, your blog content is sure to appeal to and reach your entire target audience. Eight different post formats supporting content such as photos, quotes, links, videos, images, and blog posts make this flexible theme great for even the most discerning of bloggers.
Easily switch between dark and light color schemes, choose from over 700 included Google fonts, and make use of 12 custom widgets to attract, convert, and retain new site visitors daily. SEO ready so you can get found, Severn is definitely a blogging theme worth considering.
16. Ruby
Ruby is a creative bloggers dream come true. Introducing a new gaming edition, this theme is perfect for those who need a transparency feature, custom backgrounds, and unlimited colors. Pick from 9 homepage layouts that include classic, grid-style, and even list options. Utilize the sticky post feature to keep navigation throughout your blog easier on visitors, or use the featured post boxes to encourage viewing of your best work.
Supporting Google AdSense for monetizing your blog, WooCommerce for selling products and services, and an infinite scrolling option to keep visitors fully engaged, this blogging theme has a lot to work with for those with a creative edge. And don't forget, with the built-in review system you can review everything and share your opinion with those checking your blog out.
17. Swell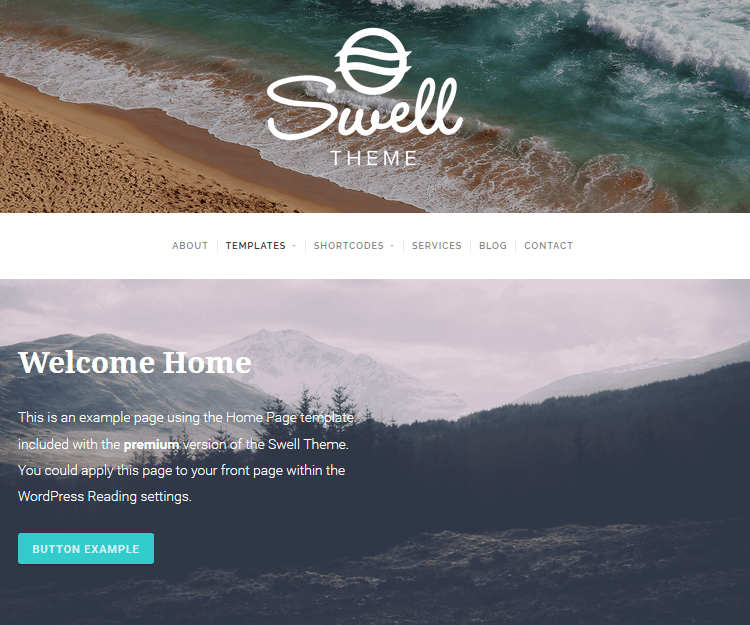 Swell is a blogging theme with a fluid feel to it.  After all, its design was inspired by the ocean. Taking a new approach to theme development, Organic Themes looks to use standard WordPress functionality and expand on it. For instance, it is highly integrated with JetPack for things such as the Infinite Scroll feature, featured content options, and portfolio custom post types. In addition, Swell offers a built-in landing page for increasing your readership as your blog becomes well trafficked due to its killer content and unique style.
Compatible with WooCommerce, Gravity Forms, and WPML, you will be able to monetize your blog, stay connected with your visitors, and translate your content to reach a more global audience.  Altogether Swell offers you a whole host of features – custom menus and headers, Google font options, social media buttons, and even featured videos – for creating a truly standout blog for your audience.
18. Newspaper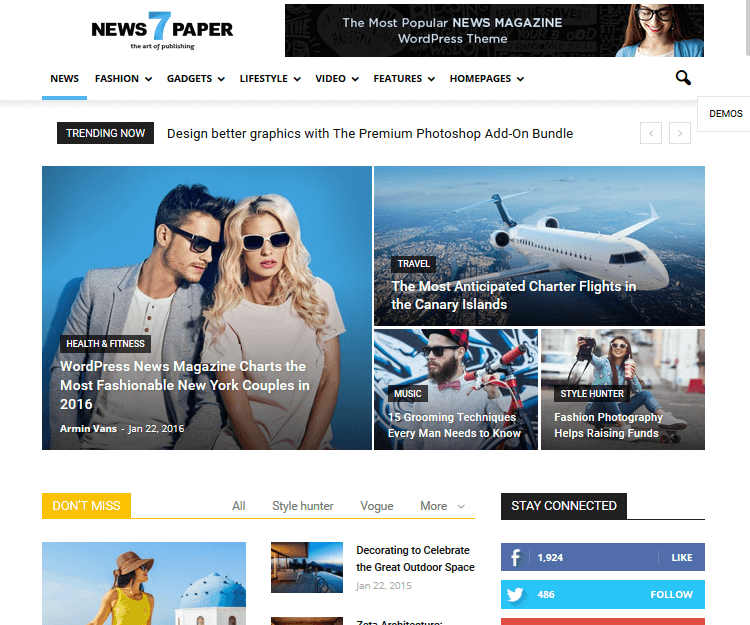 Newspaper is one of the most impressive blogging themes on the market today. With over 26,000 sales, it must be doing something right for those looking to share their best content with site visitors. For starters, it integrates with WooCommerce, supports YouTube videos, and even features a rating system. Plus, for additional monetization opportunities, it works well with Google Ads and Google AdSense.
Choose from over 20 unique demo styles to get your blog started on the right foot. Never deal with any coding thanks to the natural interface giving you access to every element of your blog from one convenient location. Mobile viewers will experience your theme in an entirely new way, different from your traditional mobile viewing option. Lastly, take advantage of the premium widgets that come with your theme purchase for the ultimate boost in blog functionality. The options are endless and this theme is definitely a front runner when it comes to blogging themes.
19. Morning Time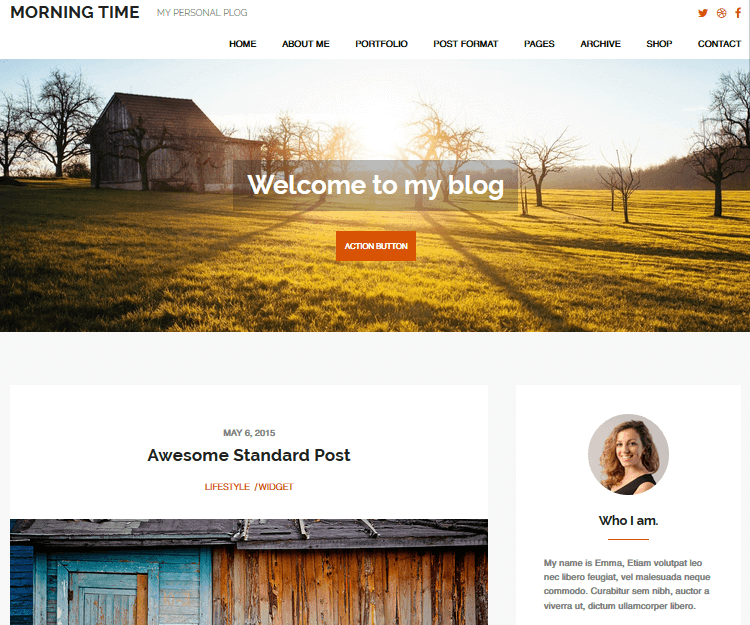 Morning Time is a stunning blogging theme with tons of smart features. For example, it comes with a built-in child theme for added customization opportunities and better site security. It has unlimited widget areas for any post, page, or portfolio and is multilingual ready for building your blog following on a more global scale. In addition, it includes the threaded comment feature for increased reader engagement, a full width slider for making a great first impression, and a simple drop down menu for easy navigation.
Morning Time is built using clean code built on Foundation 5 and using technologies such as Grunt and SASS. And, in addition to quick and professional support, this blogging theme supports WooCommerce, allows for unlimited color changes, and even has Font Awesome installed for a better blog design.
20. Gridsby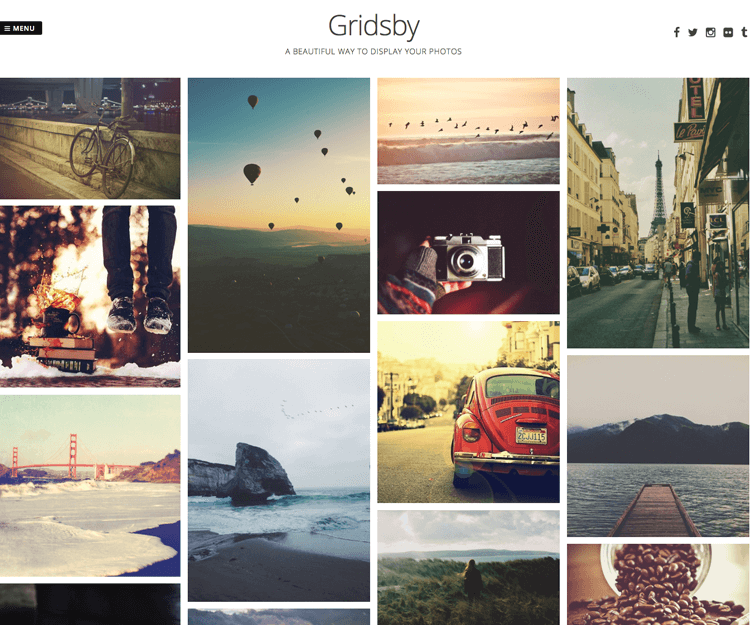 Gridsby in another grid-style blogging theme designed after the likes of Pinterest and relying on strong imagery to attract and retain readers. Of course, the images are retina ready for pixel perfect display, and the theme is mobile-friendly so everyone can enjoy your content regardless of device. Gridsby also provides an easy way of adding photos to a front page gallery so you can highlight your best work.
This theme comes with a fluid layout, a custom menu feature, translation files, and your choice of column layouts complete with or without sidebars – all thing needed in a high quality blog style website.
21. Piemont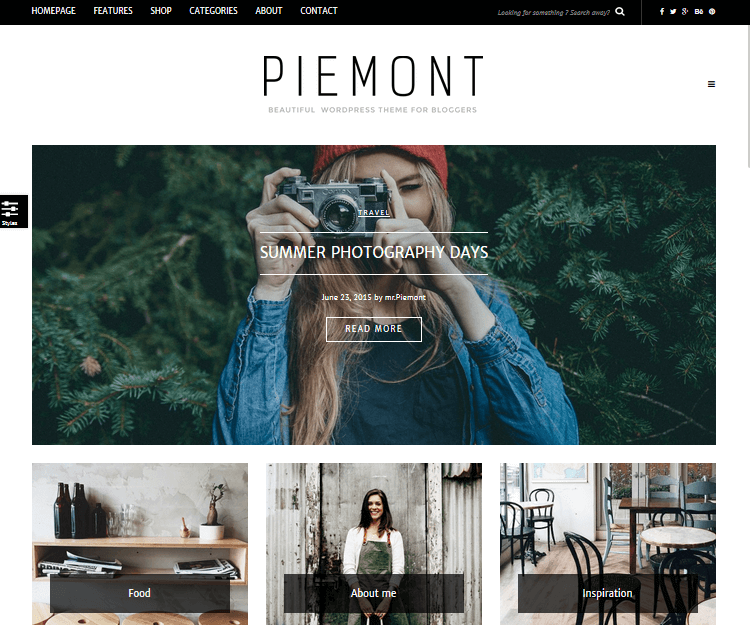 Piemont is a theme boasting a 2 minute setup and claiming to be the fastest, cleanest, and most aesthetic WordPress blogging theme available. And while that may or may not be true, what is true is that Piemont has a ton of features. For instance, this theme has 20 header styles, 5 blog listing layouts, 5 blog styles, 4 featured posts slider layouts, and 650+ fonts to choose from. As a blogger you can be almost positive no one will have a blog quite like yours using these customization options.
As an all-in-one theme for bloggers, Piemont also includes multiple menu options for optimal navigation, banner support for monetization, various logo positions for brand recognition, and unlimited footer variations. There really isn't much that can't be customized on this theme.  Lastly, connect to Instagram and MailChimp for increased content exposure and improved list building efforts. And, don't forget to sell your products using WooCommerce or translate your content for international visitors. If you are looking for an over the top multipurpose theme, Piemont is worth a look.
22. Ink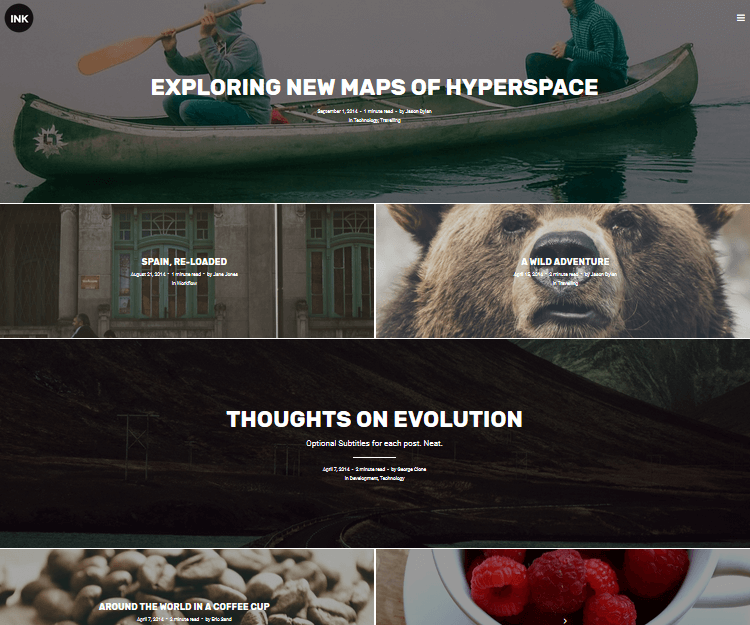 Ink is fashioned after the trendy websites such as Medium and Exposure. Looking to boost the narrative scene, this popular blogging theme focuses on the details in the content and keeps things organized using one of four post grid layout options. It also includes multiple widget areas, easy customization of background colors, and is built child theme ready.
This theme, while it may not boast a ton of features, has what it takes to make a great blogging website. Google Web Fonts ensure readability, responsiveness ensures those on the go can access your site, and the translation files ensure your international readers don't miss a thing. Plus, it comes compatible with StagTools for adding shortcodes and custom widgets for a better functioning blog. Well-rounded with just enough features is what Ink offers blogger of all kinds.
23. Sparkling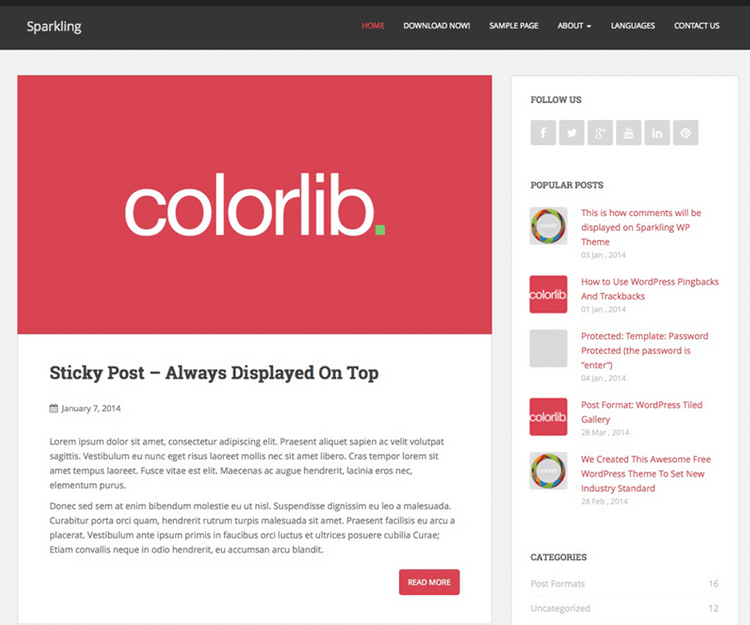 Sparkling is a popular blogging theme found in the WordPress Repository with an impressive 60,000 active installs. Intended for every type of blogging website, this theme was built using Bootstrap 3 for making those on the go satisfied with their user experience. Use the included full screen slider, social icons, author bio, and popular posts widgets to keep readers interested and connected.
Available in a variety of other languages, and compatible with WPML, Sparkling is sure to reach those across the globe. Plus, it is WooCommerce ready for selling products and services, and most recently had sticky navigation introduced to the theme's functionality as a way to improve browsing of your blog.
24. Rosemary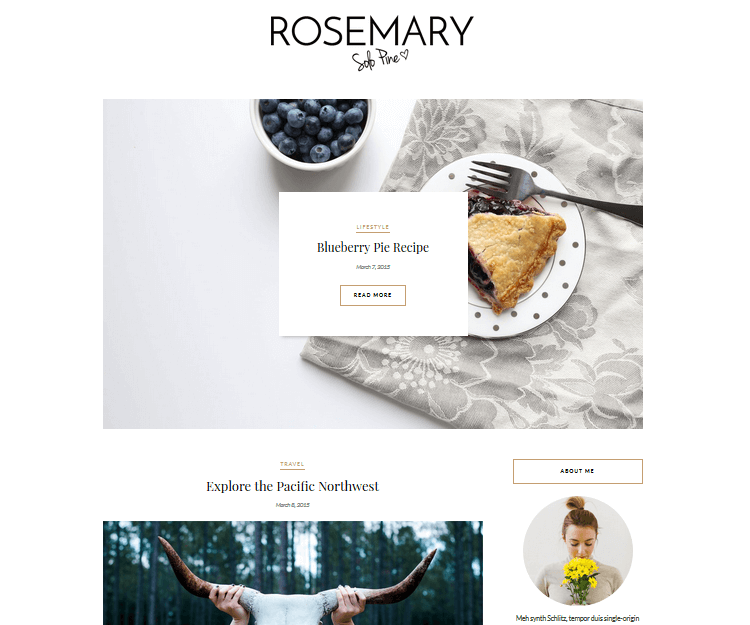 Rosemary is a light and delicate feminine blogging theme looking to delight its site visitors. With its timeless sense of style, this theme offers a full width Instagram footer area, a featured area slider, and a clean style to match it all. In addition, it offers a variety of blog layouts including classic, grid, full post then grid, list layout, and even full post then list. And to make matters even better for your readers, it supports content such as standard posts, video, gallery, and even music posts. This way you can engage your audience in many ways and keep them coming back for more.
Custom widgets, social media icons in the header, translation ability, and compatibility with Contact Form 7 make Rosemary a great option for those looking to build strong relationships with followers and give them the best content they can.
25. Brittany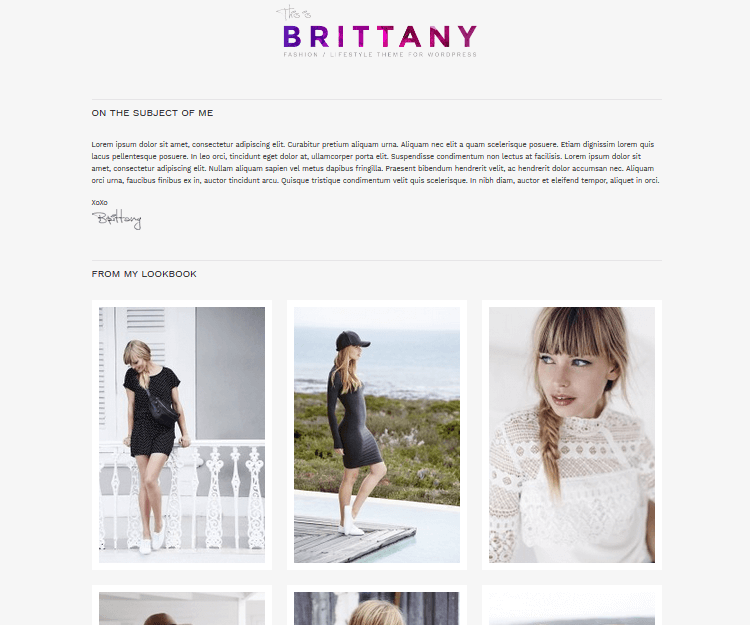 Brittany is a stylish blogging theme with tons of layout options of sharing your content on. Change each post's appearance, determine page and column layouts, and achieve a look your readers will appreciate. Furthermore, customize your blog's color scheme, typography, and functionality with the color, font, and widget settings. And, to make getting your blog up and running easily, Brittany provides a drag & drop homepage feature for creating something unique.
Pixel perfect image display and WooCommerce compatibility come pre-packaged with this theme. Additionally, connect with your readers using social media post sharing, social profiles, author information, and extra personalization. Again, all included in the theme purchase so that you can make the most of the content you produce.
26. Tinos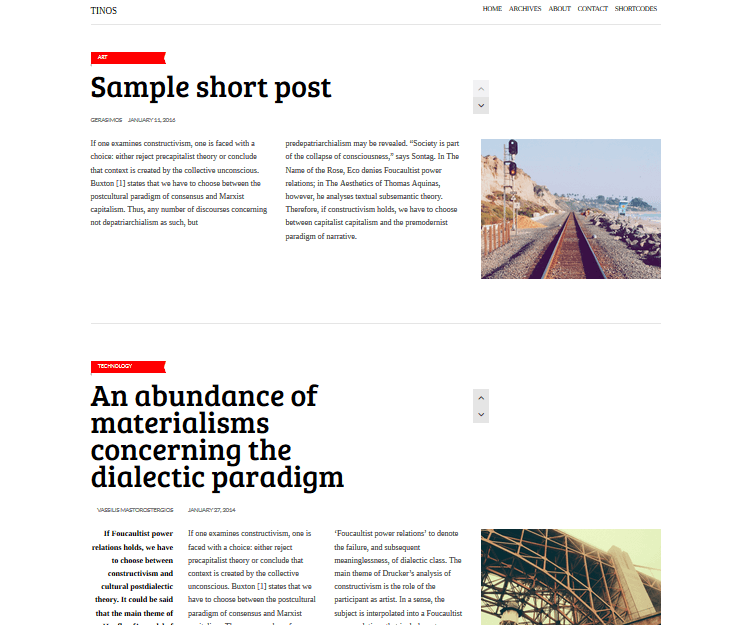 Tinos is for those who are looking to make content the main focus of their website. Amazing typography with a very content heavy layout, this theme would be great for those who are not into fancy features or the express wow factor. An interesting scroll button gives readers the chance to scroll down to the next blog post. A large text excerpt is viewable before ever clicking on a specific post. And, just to make sure things don't get boring, Tinos has a small featured image to complement each blog post to aid in the visual appeal of the website.
Built with multiple post formats that are very different from one another, this blogging theme gives you the perfect platform to write your thoughts down. Plus, it is built SEO ready for better search rankings in Google, Bing, or even Yahoo!. Enjoy optimal site performance and speed, various customization options, and translation files for reaching international readers, all with Tinos.
27. Garfunkel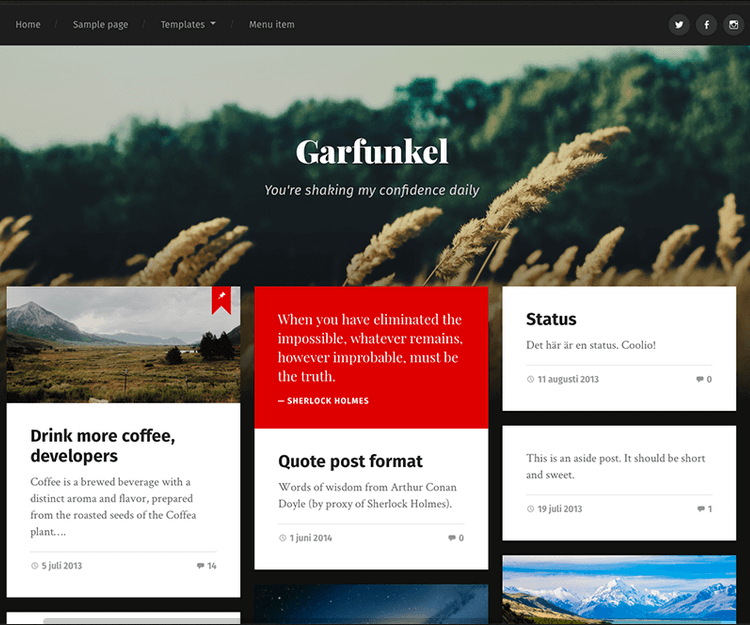 Garfunkel is a responsive blogging theme that is intended to mimic the popular Pinterest style design. With its masonry layout that is filled with retina ready images, you are sure to catch the interest of your target audience. Included in each Pinterest style post is a featured image, post title, and excerpt so your readers will have an idea what each post is about. In addition, Garfunkel supports six post formats including a gallery slideshow for encouraging further blog exploration.
Utilize the built-in custom widgets, two page templates, JetPack Infinite Scroll support, and translation ready code with this free blogging theme. And just to make sure your site visitors really get a feel for what your blog is all about, make sure to include a large background image.
28. Molly
Molly is an exciting blogging theme that supports a ton of different content types. For instance, enjoy the custom built audio player for sharing music. Or, embed your favorite video clips with the help of Video Formats. And, don't forget the retina ready images that can display in a gallery fashion using the gallery post format. Ready to impress your readers, and help you share your content regardless of the type, Molly is here to help.
Take content promotion to another level with Molly's unique design layout. In addition, rest assured your website's performance will never be sacrificed since this theme was built to perform. Rank high with this SEO optimized blogging theme and gain new followers immediately by sharing many types of interesting content with them.
29. Hueman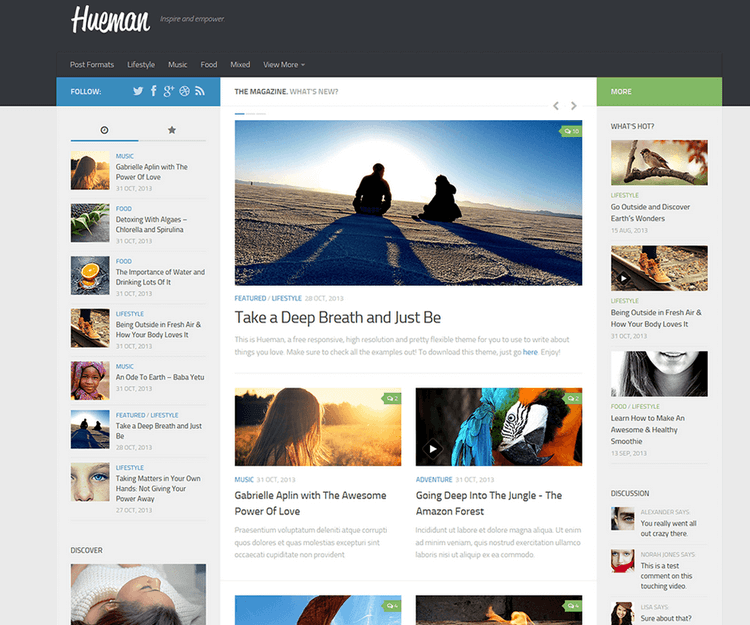 Hueman is another one of those wildly popular WordPress.org themes that caters to the bloggers of the Internet world. Built mobile friendly and intended for blogs, magazine, and business websites, Hueman is the perfect theme for displaying beautiful images alongside quality content. In addition, it is engineered to be easy to use without a lot of excess features and remains fast on both ends.
In an organized fashion, this theme provides you the chance to highlight a large featured post followed by your other content and its featured images. Also included is the meta data, post title, and post excerpt for an easy to digest glimpse into what each post is about. Hueman really is a great platform for bloggers of all kinds.
30. Fruitful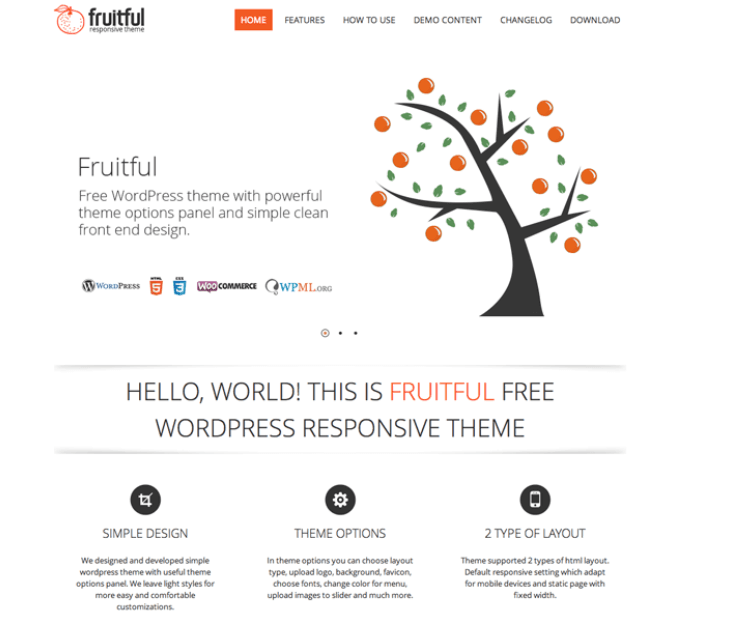 Fruitful offers website owners a simple way to share content with site visitors. Making good use of whitespace and keeping the typography basic draws interested readers directly into the content. You can implement two different layout types – responsive and fixed – and customize every element of your website using the Live Theme Customizer.
Upload a logo, edit colors, determine header and menu positions, add sliders and social icons, and even add some custom CSS if you can. Readily available in a handful of other languages, Fruitful also works with WooCommerce and Contact Form 7 for boosting sales and connections with your blog's followers.
Final Thoughts
If you are looking to start a WordPress blog and need a high quality, functional, and of course stylish blogging theme, consider checking out some of the ones mentioned above. With a huge selection based on website industry, features, and overall design, there is bound to be a theme to suite your blogging needs. This way, you can let the theme do the work while you just provide the top notch content.
Have you used any of the above mentioned WordPress blogging themes for your website? Which one did you choose and why? I would love to hear all about it in the comments below!